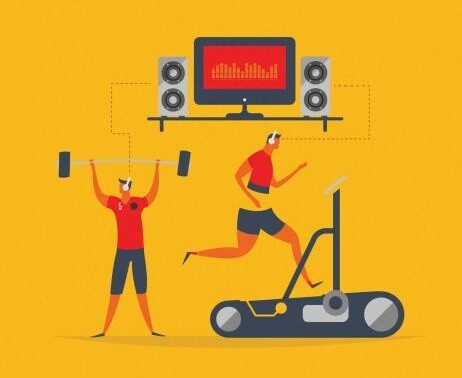 When residents move into The Current this spring, the first high-rise apartment tower to come out of the ground in Long Beach, Calif., in nearly four decades, they'll enjoy some of the hottest amenities in the multifamily industry today. The 17-story, 223-unit tower, co-­developed by Los ­Angeles–based Anderson Pacific and San Diego–based Ledcor Properties, has 9- to 12-foot ceilings, ocean views, USB charging ports, quartz countertops, European backsplashes, and high-end appliance packages.
But that's just inside the units.
A good bit of the building's bling will be on display in the common areas, much of it gilded with floor-to-ceiling technology.
The amenity spaces boast an indoor–outdoor rooftop dining area; pool and sun deck with USB charging ports and Wi-Fi; a fully equipped gourmet kitchen with an audio and screen system residents can control; a fitness center with individually tailored connectivity and Bluetooth options on each machine; a yoga studio with screen space for on-demand video instruction; automated package and dry-cleaning lockers; an in-lobby, e-resident interface synced to residents' mobile devices; keyless electronic access control throughout the property; and, of course, a fully automated dog-washing station.
Throughout the tower, Wi-Fi access points and cellular repeaters make sure residents' calls don't drop while they're in the elevator or hallway, and extra capacity in the micro-ducts installed up and down the building's spine ensures that more fiber optics can be run in the future, when they're needed, to supplant the trunks that are already there.
In the parking area, owners of electric vehicles (EVs) will enjoy the convenience of eight EV charging stations, with another four stations dedicated to the site's 6,750 square feet of retail space and 25,000-square-foot plaza, which is home to more restaurants and shops. The aim, says Ryan Altoon, executive vice president at Anderson Pacific, is not only to provide the luxury living and leading-edge tech amenities residents have come to expect in apartment towers this decade, but also "the kinds of amenities normally found in a boutique hotel."
The Current's common-area technology baubles may have seemed over the top just five years ago. But today, they represent the state of a tech amenities arms race that's mushroomed—along with rents—to ever greater heights. Altoon and Jason Silver, development project manager at Ledcor, expect to pull in rents of $3 to $3.50 a foot. That's well above Long Beach's average rent of $2.50 per foot, but one that will surely seem like a bargain to Angelenos who have seen rents north of $4 a square foot just 20 miles away.
Even as consumers have cried foul over soaring rents in recent years—while still continuing to pay them—one overlooked aspect of renting's great run-up is how much it now costs owners to maintain those hypoxic levels.
Namely, with buildings like The Current chock-full of technology amenities coming out of the ground in MSAs around the country, the question on many operators' minds has become what technology amenities they must have today to keep occupancies high. While many operators stare slack-jawed at the common-area and technology extras currently en vogue at properties across the country, they wonder if they can afford not to put the same enticements in their own buildings and remain competitive, even if they can't tie rent increases and ROI to them.
Keeping Up With the (Multifamily) Joneses
Nick Alicastro, vice president of business development at Irvine, ­Calif.–based Western National Property Management, which manages 160 properties across the West, has been busy shopping for the latest must-have tech amenities. The mission—to ensure his properties keep up with their comps.
Alicastro ticks off a list that includes items such as dog-grooming machines and EV chargers, as well as a few over-the-top features to keep a leg up on his competitors. One is an outside social seating area with fire pits and weather-sealed, exterior TVs, as well as a glass-enclosed fitness center whose walls can open up to enjoy the breeze off the Pacific Ocean at one California property. He describes it as "a fitness center inside an enormous, 2,500-square-foot gazebo that has no walls."
Alicastro says that type of amenity is what's coming to be expected in the current market. "The bar just keeps getting raised and raised and raised," he says. "If I'm going to compete in a market with eight buildings, and they all have the latest and greatest technology and amenities—and they're getting the desired rent I want—then I have to put myself somewhere on the playing field with them."
Dean Holmes, COO at Philadelphia-based Madison Apartment Group, which manages 16,000 units in 13 states, says the amenities race has taken on a quality of keeping up with the Joneses, with no end in sight. "Whether you're developing new product or trying to retrofit an existing deal, everyone is trying to out-do the guy next door," Holmes says. "The days of set-it-and-forget-it amenity programming are a thing of the past—annual redecorating and reamenitizing costs are on the rise. The technology seems to be moving faster than the imagination and budget of apartment operators to keep up."
For Holmes, the technology his residents look for the most comes in the form of connectivity. "The mantra is 'fast, free, and everywhere,' " Holmes says. "Residents are looking for seamless connectivity across the entire property. The mini movie theater rooms in yesterday's clubhouse are making a comeback in the form of over-the-top screening rooms with technology that can be accessed and controlled by the resident. USB port access and charging stations are everywhere."
Resident DIY
Since residents today expect access to their amenities 24 hours a day, or at the very least after leasing office hours, Holmes says having electronic access control and other amenities at a building that allow for self-service is quickly becoming a must. "Electronic access is really gaining in importance," he says.
Indeed, for Nat Kunes, vice president at property management software firm AppFolio, amenities that allow resident access through a smart phone are becoming the hallmark across the industry.
"Self-service is the key in terms of where beyond-the-unit technology is headed," Kunes says. "Tenants respond positively to technology that allows them to accomplish tasks quickly without relying on the building staff, such as online rent payment. Younger residents appreciate the added level of simplicity and automation that comes with opening building doors and mail lockers with their smart phones—it's the thing they already rely on for a lot of their day-to-day tasks."
Common-Area ROI?
The problem is that all these common-area, tech-laden amenities, like an indoor–outdoor fitness center with machines that have their own individual Internet connectivity, don't come cheap. Those machines alone can range from $5,000 to $10,000 a pop. And because Alicastro's fitness center gazebo can't be tied directly to an increase in rent for individual units, measuring the ROI on the amenity is tough.
"Am I going to get more rent if I put in the $10,000 machine versus the $5,000 machine? The answer is no," Alicastro says. "But the answer is also, 'I don't know.' But what it will do is inspire overall renting velocity, and for people to live at your community. We all underwrite our deals based on those kinds of assumptions."
On the other hand, offsetting residents' costs for a gym membership is something savvy operators are sure to point out to prospects. "Your average resident would have to spend $100 to $200 per month on fitness club membership," says Richard Lake, founding partner at Washington, D.C.–based Roadside Development, which developed City Market at O, a 497-unit, multitower, luxury community that boasts common-area tech amenities such as an HD theater, iMac stations, EV charging stations, ­climate-controlled bike storage, and keyless access. "Our gym is a one-stop shop with eight free fitness classes a week," says Lake.
But even pros who crunch numbers for a living say figuring out an exact ROI figure for a common-area amenity is an elusive goal. While it's straightforward to say you get $100 more in rent each month when you install an $800 washer–dryer combo in a unit, the math doesn't work the same way with a dog-grooming station or publike lounge.
"The only operators in the industry who are engaging in holistic, amenity-based pricing are people who are using revenue management software," says Joseph Beaudin, marketing manager at San Francisco–based data analysis firm Rentlytics. "But even then, they're really only able to look at trending revenue and trending occupancy. Figuring out the return on shared amenities is almost impossible."
Beaudin says operators who use revenue management programs tend to do a better job at baking the cost of common-area amenities into their pricing, based on market research and looking at their comps, as Alicastro does. But in the end, even sophisticated apartment pros have to go with their gut on deciding which common-area tech amenities are going to pay them back.
"Most people are just going to speculate as to which amenity is going to sell in 2016," Beaudin says. "They use their experience and knowledge of the market to say, 'Let's convert our billiards room into a yoga room.' " More often than not today, that yoga room may also have a built-in screen to allow for on-demand instruction.
In those cases, when Beaudin looks at the common-area amenity efforts across his pool of clients, they really come down to an added extra that helps leasing agents close a deal. "They're usually used more as a selling tool," Beaudin says. "In a millennial community today, it's sexy to say you've got a yoga room."
But just because you can't tie specific rent increases to specific ­common-area amenities doesn't mean you don't need them. And of course, the best common-area amenities you can buy will be those linked to high demand, as well as ones that can generate ancillary income.
Pack It Up
Take, for instance, automated package locker systems, such as those offered by Package Concierge, Parcel Pending, and Luxor One. Those systems cost anywhere from $7,000 to $20,000, depending on your configuration, and go up from there. But while they're not cheap, they do have the potential to reduce staff salary, especially as the surge in apartment demand has coalesced with the exponentially increased popularity of online shopping. As many operators know today, ­package-clogged mail rooms and lobbies are no laughing matter; some companies have faced the no-win choice of hiring full-time staff to deal with the matter or refusing residents' packages altogether.
And yet, the demand from residents for properties to accept packages is obviously there. According to National Multifamily Housing Council/Kingsley Associates' 2015 Apartment Resident Preferences Survey, 72% of residents want a package-receiving or storage area in their building, but 87% of them also say they're not necessarily willing to pay for it.
"Residents aren't willing to pay for package storage; they just expect it to be an amenity," says Jason Stevens, a sales associate at Chicago-based commercial real estate consulting firm KIG. "But many of our developers are having success with package systems where if residents don't pick up their package within an allotted time, they're charged."
Automated package storage systems can produce ancillary income when residents pay a one-time setup fee or are up-charged for packages that remain in their lockers too long. In those cases, apartment operators and package storage system companies can split those fees.
Squeaky-Clean Pets
Another amenity that's gaining popularity is the automated dog-washing station. According to the NMHC–Kingsley survey, 33% of renters are pet owners, and more than half of them—54%—express interest in having a washing station at their property. The machines, which require a dedicated area supplied with power, water, and a drain, aren't cheap. They start around $15,000, but they can be set up with a pay-as-you-go card reader that can result in ancillary income.
EV Charging Ahead
One technology amenity that's gaining ground among apartment operators is EV charging stations, supplied by companies such as NRG, Blink, Leviton, and EverCharge. But some operators say the up-front costs can be prohibitive; the chargers cost around $15,000 to install a single unit. While most units can charge two cars simultaneously, installing multiple units at a property becomes expensive quickly. They also have higher power requirements than many existing properties can easily meet.
That's where a firm like Oakland, Calif.–based EverCharge comes in. The company provides EV charging stations specifically designed for apartments. It also says its machines will learn residents' charging habits and manage the power output at a community to meet those needs.
"We extend the existing electrical capacity by intelligently managing the community's power," says CEO Jason Appelbaum, noting that the pain point for many electric vehicle owners is having to share a limited number of charging stations, an issue that could quickly become a property manager's problem. "We can increase the number of chargers available at a property by three to 10 times." The company bills residents for their electric use and then reimburses the community.
It's that kind of partnership that can help apartment operators offset the cost of providing this amenity to residents. Remember all those EV chargers at The Current? Silver says that by working with Houston-based NRG EV Services, the property was able to install the right infrastructure to power the chargers up front while offsetting the costs of the units themselves.
"They helped offset some of our hard costs for us to install the infrastructure, by as much as $40,000," Silver says. "We were able to get more electrical vehicle charging stations, and they're able to charge for the actual use of electricity to offset their costs. It's a win-win."
It's also something The Current won't have to pay to maintain over time. That's a characteristic Beaudin recommends looking for when choosing any kind of amenity, whether it's tech heavy or not. Namely, the best amenities are the ones residents use—think USB chargers ­everywhere—but are also easy, and inexpensive, to maintain.
"People stopped putting in saunas and hot tubs and, in some cases, pools, because they came with a recurring, annual cost to maintain them," Beaudin says. "The beauty of a yoga room is that it doesn't cost a lot, it takes zero maintenance, and in two years, if yoga isn't hot anymore, you can turn it into something else."