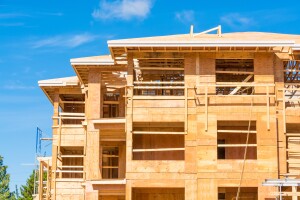 Down 30 basis points from June and 400 basis points from the beginning of the year, year-over-year growth for multifamily asking rents fell to 1.6% in July, while the average asking rent increased $2 from the month prior to $1,729, according to the Yardi Matrix National Multifamily Report.
Occupancy rates have remained steady at 95% for the last four months, Yardi Matrix reports. "Demand remains propped up by the healthy job market, as the U.S. economy added 1.7 million jobs in the first half of 2023. While we still expect the economy to cool in coming quarters, the fact that second quarter job and GDP numbers were strong while inflation recedes has confounded the economic consensus," Yardi Matrix analysts say.
Metros in the Northeast and Midwest continue to lead rent growth, with Indianapolis posting 5.5% year-over-year growth; New York, 5.5%; New Jersey, 5.4%; Chicago, 5.2%; and Boston, 4.3%. Yardi Matrix points out that a large factor in rent growth in these metros is the low number of completions and high occupancy rates. New York's occupancy rate is 98.1%, and New Jersey's is 97.2%.
"There are several reasons for the market rotation, including affordability in the wake of rapid rent increases and slowing domestic migration. Even so, supply growth has emerged as the key factor in metro-level rent growth," the report states.
The lowest rent growth was seen in Las Vegas (-3.5%), Phoenix (-3.1%), and Austin, Texas (-2.8%). Of the 12 metros in the top 30 list with supply growth of 2.5% or more year over year, six recorded negative rent growth, including Austin with a 4.4% increase in total stock year over year through July, Nashville, Tennessee (4.1%), and Raleigh, North Carolina (3.5%).
In July, single-family rental (SFR) rates were unchanged at $2,108, remaining at an all-time high due to robust occupancy rates, Yardi notes. Year over year, national SFR rent growth fell 20 basis points to 1.2%.