What's your company's greatest strength? If you answered "people," you're not alone; it's a popular response among executives today, particularly in the apartment industry, where the talent you need can be hard to find and even more difficult to keep.
But it's not impossible. Just look at the five young leaders featured in MFE's inaugural class of rising stars. Some are multifamily veterans, while others come from other industries. Regardless of their background or company affiliation, though, each one has the energy, drive, and fresh ideas you'd expect from a member of multifamily's very own "Fab Five."
Mission Accomplished
A former sharpshooter sets her sights on establishing a national training program for her company.
In a people-centric business with high turnover, training is one of the best ways to prepare staff to win residents and stay with the company.
A 2003 Accenture study found that employees receiving the most training stay with their companies 14 percent longer, are 17 percent more productive, and perform at 20 percent higher levels relative to their peer group.
But there's more to training than a better bottom line, according to Stephanie Puryear Helling, 36, vice president of education and marketing for Greystar Real Estate Partners' Austin, Dallas, and Denver regions.
"There's great satisfaction in being able to play a part in the success of others," says Helling, who's based in Dallas. "Our success as a company is contingent upon giving our associates the tools they need."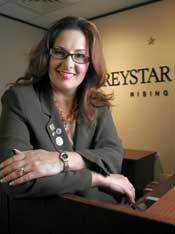 That mindset prompted Helling, who began her career in 1992 as a leasing professional, to create Greystar University, an in-house training program that starts on employees' first day with the company. The program includes in-person and online training to create a blended learning system that allows Greystar to train more associates more effectively. She also helped form the Greystar National Education Counsel to help trainers discover and replicate best practices within the company.
"She is fabulous in training all the new employees who join our region," says Debi Wehmeier, senior vice president of Greystar's central region. "She relays not only the policies and procedures of the company, but most importantly is the first impression as a leader. Stephanie is dedicated to training each associate to success and to rise to the top of the industry."
That pays off in recruiting and retaining great employees. "We are continually receiving applications and associate referrals based solely on our word-of-mouth reputation within the industry," Helling says. And though turn-over figures weren't available for Greystar, the vice president says trends look good. "Tenure for our associates continues to grow, as we have many associates who have been with us between two years and nine years in Dallas, Austin, and San Antonio."
Helling attributes her success to her focus, which she honed in the Army National Guard as a combat medic and as a certified sharpshooter with an M-16 and a hand grenade. "Success is not achieved by setting your sights on the next best thing," Helling says, "but in being fully present in your current position, being willing to give your best to whatever your current role is, and realizing the importance of each role you play in the overall success of the team."