Christina Steeg is busy re-shooting photo assets and virtual floor plans for almost every asset in the $10.7 billion Waterton apartment investment and management portfolio. As the company celebrates its 25th anniversary, acquisitions are expanding the Chicago-based owner/operator's footprint into new markets in Pennsylvania and the Pacific Northwest.
Even as Waterton has strategically purchased near major employment centers like Nike, QVC, Boeing, and the Children's Hospital of Philadelphia, the vibe of all of Waterton's digital marketing is decidedly work-from-home. Even the company's 25th anniversary motto is about being focused on great places to live and work.
"We are looking to reload all of our virtual floor plans with newly added staging to call out unique alcoves and dens as work-from-home spaces as well as shooting new virtual tours of our common area co-working spaces to make sure we are pushing that forward in all of our marketing," says Steeg, who joined Waterton in July 2022 as the company's senior vice president of marketing and communications.
A veteran player in the value-add repositioning of 1980s, 1990s, and 2000s vintage apartment assets, Waterton has been able to take advantage of the larger floor plans of those eras to stage work-from-home spaces within units even as it incorporates the construction of common area co-working spaces into its signature redevelopment program, offering residents and prospects alike a remote-work lifestyle that unfetters them from the daily commute away from the apartment community.
And Waterton's not alone. "Work-from-home is definitely top of mind for every owner, operator, and developer out there," says Ryan Kimura, senior vice president of strategic partnerships for Dallas-based Premier, a real estate advisory services firm providing design, development, project management, and capital management solutions to multifamily and hospitality investors.
Even as the pandemic has receded, a legacy of flexible, remote-work, and hybrid-work policies among U.S. employers has endured, creating new opportunities in multifamily value-add investment for properties that can provide and promote newly incorporated work-from-home and co-working spaces.
"Most companies are doing a hybrid, and I don't think that's going to change, and I think most multifamily developers and managers understand that this is the new normal now," Kimura says. "Will it stay like that forever? Who knows, but in the next few years as you embark on a value-add project, you will need to show a commitment to well-designed common areas where people can come out of their apartments and work in a dedicated space within the community."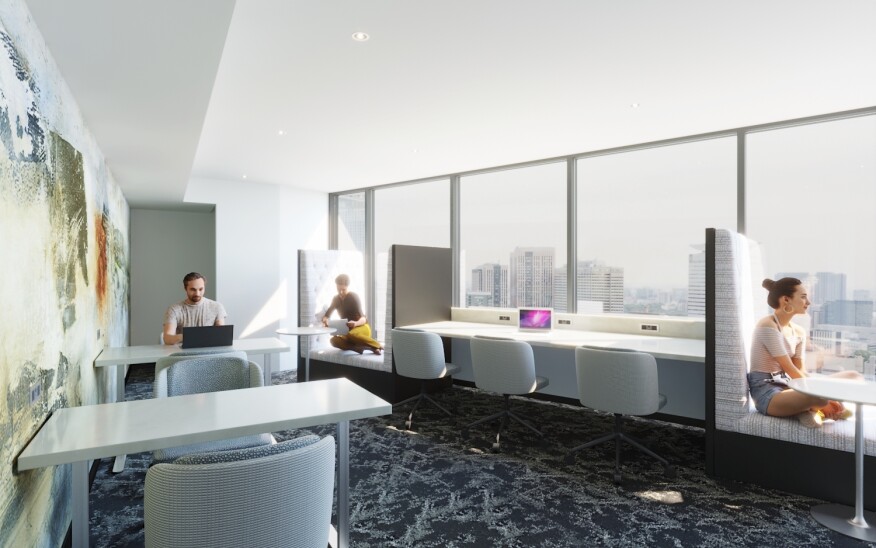 From a technology standpoint, co-working spaces need little more than blazing fast Wi-Fi and semi-private to private areas appropriate for video conferencing. For value-add repositioning of old business centers or unused clubhouse square footage, some investors are also linking reservable, conference-room areas into property management apps. A Wi-Fi-enabled printer is a plus, as the business center of old evolves into more of a WeWork, Starbucks-esque amalgam of socially activated, hip, collaborative work space.
"We think of them as multiuse spaces," says Steeg. "Almost every acquisition has a lot of renovation involved, and part of our process is to figure out how to refresh underused core amenity space by creating areas where you can have private working space as well as something more active. Even our common area demonstration kitchens are getting activated more with work-from-home residents that may start with a meeting that then blends into a luncheon."
Tess Gruenstein is the senior vice president of acquisitions and portfolio management at Foster City, California-based Bailard, which maintains an open-ended, commingled real estate fund historically weighted 40% to 45% in multifamily and split equally between new development and value-add. An analysis of the portfolio has revealed that residents increasingly remain drawn to studio and one-bedroom units, and, as the pandemic has abated, common areas are reactivating with work-from-home renters.
"Over the last 12 to 18 months we've seen an increase in the willingness of renters to use shared spaces in our common areas that have a good working environment to set up shop," Gruenstein says. "In Minneapolis, we are putting in phone booth rooms—single-occupancy rooms where people can get some quiet space. Pre-COVID, that's definitely not something that would have been on our docket for amenities."
Like Waterton, Bailard is looking for underutilized square footage to convert into co-working spaces as part of its value-add strategy, and Gruenstein has discovered that–especially with podium and inner-ring assets–tough to lease ground-floor retail can be easily repurposed for co-working spaces. She also thinks that conference rooms and other dedicated, reservable, work-from-home common areas might lead to new lines of ancillary revenue for more assertive asset owners and property managers.
"Co-working is still a soft feature that is hard to quantify, but you can possibly cash-flow it if you're creative about how you do it with the resident," Gruenstein explains. "Right now it can be hard to find the right retailers to fill those ground-floor spaces, and often you see assets that have storefronts perpetually vacant. It's not always worked super well, but as you put the puzzle pieces together, it might make sense as a community-managed collaborative space that can be rented out. It is something we're looking at in our portfolio."
Back at Waterton, the concept of "looking at" has come full circle as Steeg attempts to arm her leasing teams with as much co-working space and work-from-home visuals as possible. And not just for new prospects: The company is leveraging its customer relationship management software to identify prior leads that might be further nurtured down the lease funnel with just the right work-from-home nudge.
"As we complete renovations with new co-working components, we are leveraging our CRM to retarget early traffic by showcasing the work-from-home spaces that we've created and of course highlighting those common areas and amenities via social media," Steeg says. "Like other trend-driven must-haves in multifamily, it's about creating the lifestyle that our residents and prospects are drawn to, and sharing it with them through imagery."