Imagine all the people..." John Lennon's immortal lyric was written in 1971, just a few short years prior to his late-1970s residency in The Dakota (along with wife Yoko Ono and son Sean). The site is also most famously—and somewhat ignominiously—known as the location of the former Beatle's gunning down outside its imposing front entrance in 1980. Strawberry Fields Memorial—just across Central Park West—honors the musical icon.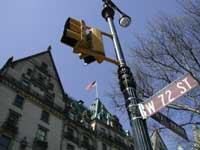 Many other celebrity residents have graced The Dakota's halls, among them Lauren Bacall, Judy Garland, Leonard Bernstein, Connie Chung, Gilda Radner, and John Madden. The building figures into many cinematic and literary dramas, too, most notably "Rosemary's Baby," "Hannah and Her Sisters," and "Vanilla Sky," as well as Jack Finney's science fiction novel, Time and Again. A book called Life at the Dakota even touts it as "New York's most unusual address."
Architect Henry J. Hardenbergh, also known for designing New York's Plaza Hotel, designed the residence, which reportedly got its name because city dwellers used to joke that the building was so remotely located (in the then-sparsely populated Central Park West) that it might as well be in the Dakota Territory.
Some of the building's character owes itself to flourishes of German Renaissance architecture, but the main layout plan incorporates predominantly French architectural features—all the rage in the 1880s, when the building was built (it was completed in 1884).
Catering to the wealthy, The Dakota offered separate service elevators, a large dining hall with dumb-waiters, inlaid wood floors, plus a garden, private croquet lawns, and a tennis court.
Its large, French-inspired interior porte cochère (central courtyard), spacious enough for horse-drawn carriages of the period, recently underwent renovation. The restoration features Devonian stone, a blue-tinged stone native to New York.