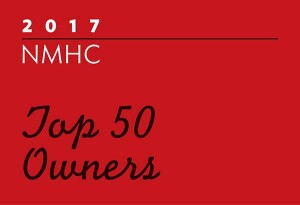 This year, Weidner Apartment Homes celebrates its 40th anniversary. The firm has mostly flown under the radar as a Class B owner in the Western states and Canada, quietly building a portfolio based on following a simple strategy: Buy strong, and go long.
"We rarely sell," says Weidner COO Jack O'Connor. "A great property is identified by how well it fits in with our regional footprint and whether the building has good bones. We want to buy right, add value through upgrades, and then manage consistently and effectively, because we're in it for the long-term hold."
This steady approach brings Weidner and a handful of other long-hold portfolio owners into a 2016 limelight that saw national REITs collectively dispose of 35,528 units. Throw in MMA's $3.9 billion megamerger with Post Properties and Starwood Capital's $1.3 billion takedown of Milestone Apartments, and the REIT neighborhood is getting decidedly cozier as privately held players expand their game.
In the past three years, Greensboro, N.C.–based Bell Partners has sold nearly $3.5 billion in apartments while purchasing nearly $2 billion worth, a divestment trend offset in 2016 when the company purchased $790 million in assets while selling off $475 million. "We'd have liked to have acquired more, but it's been a lot easier to sell than to buy," says Bell Partners CEO Jon Bell. "We have to comb through a lot of opportunities to find assets we like."
The Weidner team doesn't mind if you credit that stock scarcity to portfolio hoarders, and issues fair warning that core assets and oft-ignored submarkets alike are on the radar as the company continues to expand. "We have seen the millennial movement back to the urban core and have shifted somewhat to a Class A strategy in Seattle, Minneapolis, and the Inland Empire [Calif.], among other markets, and we also expect to grow our unit count in Oklahoma City," says O'Connor.
Market watchers seeking a microcosm of what Weidner is capable of can look to tertiary markets in Anchorage, Alaska, and Midland and Odessa, Texas, where the owner holds vast market share and is plowing profitability back into operations. "We tend to be the predominate player, particularly in smaller markets," O'Connor says. "We tend to be a market leader and tend to be a profitable leader, getting involved and creating community with the goal of enhancing the lifestyles in the markets we plan to operate in for a long time."
One area where Weidner will go maverick in 2017 will be Denver, where the company's underwriters sense overvaluation and are attempting a full portfolio disposition in advance of a market correction. And though the company no longer holds the original Seattle asset founder Dean Weidner started the firm with, it, like a growing number of NMHC 50 privately held independents, is still going strong.
*Due to changes in methodology for this list, owners' 2016 rankings are unavailable.