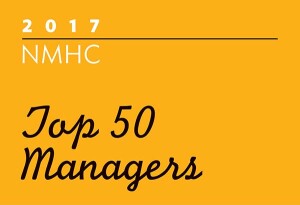 Greenbelt, Md.–based Bozzuto Management Co. opened 23 new apartment buildings in 2016, a year that also saw the firm expand into new markets in South Florida, Boston, Atlanta, and Chicago even as it brings additional marquee, Class A communities, like The Hecht Warehouse and The Hepburn, on line in its hometown, Washington, D.C., area turf. Just don't ask firm president Stephanie Williams to name a favorite.
"You spend so much time in development that you fall in love with all of them for different reasons," says Williams. "Whether they're in emerging neighborhoods [or] established neighborhoods. The team's ability to bring those properties to life is part of these incredibly unique stories and the 'why' behind the asset."
Hyperlocal isn't new for Bozzuto, which will pass 60,000 units under management this year. The firm is one of a growing number of management organizations adept at curating a neighborhood's identity at the property level and supporting it with an overdose of renter-friendly accoutrements. "Our communities serve a psychographic, rather than a demographic," Williams says. "[Our residents] could be 25 to 65 [years old], but they're typically well-heeled, well-educated residents who find a lot of value in our heavy service culture. They're civic minded, they love localized neighborhoods, and they love homegrown."
Greensboro, N.C.–based Bell Partners itself added 10,000 new units under management in 2016, including 5,000 Washington, D.C., units signed from a single owner (though the firm lost units overall for the year). As one of the country's largest value-add renovation firms, Bell's competitiveness with new developments at the local level has been a property-by-property exercise in constant improvement. "As we say internally, 'Status quo is not in our DNA,' " says Bell Partners CEO Jon Bell. "We're well positioned for the future, but with the amount of new construction recently, we're competing more with new developments, not only for residents, but also employees. To consistently provide a hassle-free living experience requires an asset-specific, tailored approach."
Gleaning deeper customer intelligence to inform the local approach has Bozzuto investing this year in a customer relationship management system similar to Salesforce that will help identify and predict renter preferences and proclivities from Baltimore to Boston.
"We've got all kinds of new stuff coming out we don't want our competition to know about," says Williams half-jokingly. "That's been one of the industry's headwinds. A lot of healthy competition out there at both the national and the regional levels. It holds us accountable to raise the bar from a service perspective and, as always, remain hyperfocused on the customer experience."