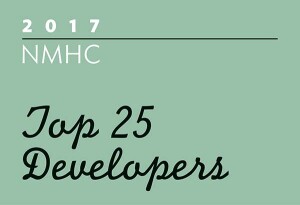 Multifamily developers started 381,000 units in 2016. High volume? Sure, but oversupply? Hardly, say Top 25 companies that eye the continuation of macroeconomic trends of population growth, job creation, and a multifamily-friendly rent-to-own ratio that could power the development sector for several years to come.
Dallas-based Mill Creek Residential Trust uses a proprietary cycle-strategy forecasting system that analyzes economic indicators and other predictors across a 72-quarter history. Updating the system twice yearly, the firm uses it as a guide to project market conditions out three years. And Austin, Texas–based ACC has 10 projects worth $600 million in total development, reflecting continued strong demand for student housing as the youth movement surges through its prime college years. According to CBRE, student housing saw a record-breaking year in 2016, with over $9.8 billion in transaction volume, a 75% increase over 2015 and three times the 2014 volume.
Until the economy says otherwise, demand for apartment units will likely outpace supply levels that developers can reasonably deliver.