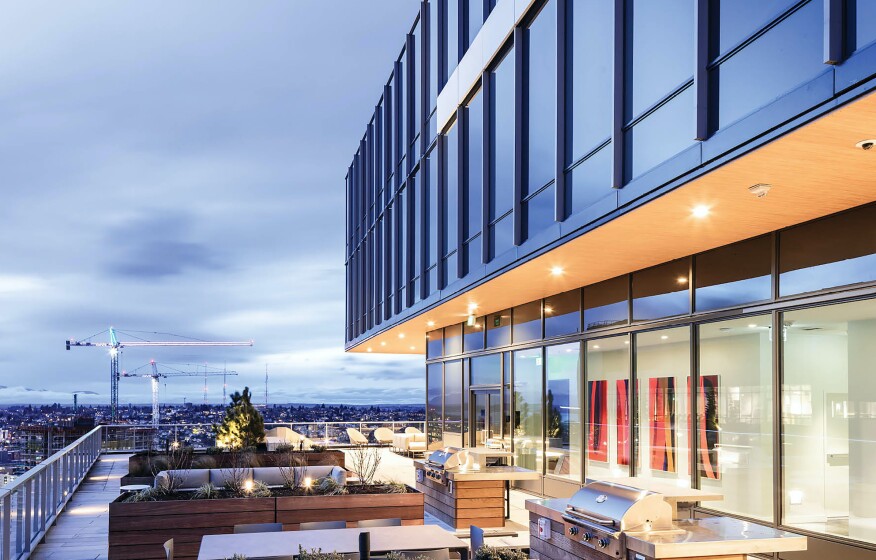 Aimed to redefine urban living in downtown Seattle, Nexus is a 41-story, 389-unit high-rise that offers a range of condominium-style homes in the up-and-coming district known as "East Village." As one of the first condo towers to be developed in the area in recent times, the team, including developer Burrard Properties, architecture firm Weber Thompson, and builder Skanska, wanted to design a building with architectural significance to entice buyers who are willing to pay a premium.
The tower's concept was derived from the idea that a building could present a dynamic expression rather than static form. The overall massing is broken down into five cube-like elements, each shifting four degrees away from each other, creating eight degrees of rotation, and implying motion. Deep reveals between the twisting cubes serve as inset wraparound terraces, adding large amounts of exterior space and breaking down the tower's scale.
The sky-terrace levels allow for multiple penthouse-quality floors with outdoor decks rather than one penthouse level at the top of the tower. At the corners of these levels, skylofts, or two-story townhouse units, were incorporated, enriching the product offering.
Inside, unit layouts eliminate the use of long, winding hallways to concentrate square footage in the main living areas. Hardwood floors, porcelain tile bathrooms, quartz counters, and European-style appliances come standard, but Nexus buyers can also choose to upgrade to natural stone offerings, as well as the option to extend hardwood floors, add a coordinated furniture island, or purchase an additional parking spot or electric vehicle charger.
Integrated technology was another important aspect to the development team. As a result, the Nexus Resident App helps residents with everyday living conveniences inside and outside their units. Residents can control and set temperature and lighting settings to suit different times of day. The app also allows homeowners to grant building, elevator, and unit access to visitors, receive delivery notifications, pick up packages, and reserve amenity spaces.
The property's amenities are primarily located on the seventh and 41st floors. The Level 7 Sky Podium provides a co-working lounge with a media room and conference rooms. Additionally, there is a gym, a yoga room, a dog run, and ample exterior space on this level. The 41st Floor Sky Lounge extends the amenity package and includes a clubroom with a suspended fireplace, an exhibition kitchen, a game room, a barbecue terrace, and a collection of exterior lounge spaces that offer privacy and serenity high atop the city.