What's cooking in kitchens? Consider first a few of the factors influencing today's culinary workspace design. Baby Boomers are hitting retirement age, lending standards have tightened, consumers have swallowed a slice of frugal pie, and the number of single households – particularly single women – is rising steadily. All of those ingredients are feeding demand for smaller, more budget-conscious kitchens with a heavy emphasis on style and universal design.
Those were just some of the insights served up during a January 20 design workshop led by kitchen design gurus MaryJo Camp, Mary Jo Peterson, and Connie Edwards at the International Builder's Show (IBS) in Las Vegas.
1. Consolidated Activity
As houses get smaller, kitchens are carrying more responsibility. Today's kitchen is still the hub of the home, and also a spot that's big on multitasking -- particularly now that many of the functions that previously had their own designated territory (e.g., laundry, dining, home office) are being absorbed into the kitchen/great room realm, Camp said. But packing all that functionality into one area takes some coordination. Space-saving solutions often include banquette seating, hideaway laundry appliances (inside pantries or behind veneer panels), and small, built-in workspaces that allow parental supervision of homework time. Kitchen-side desks are also prime spots for sorting mail, paying bills, looking up recipes, and catching up on email while you have a pot on the stove.
Certain hard and fast rules of workspace design must not be broken, however, even in spaces that perform double or triple duty. Space allocated for storage, counter space, and appliances should be evenly balanced, Camp advised. The "path of food flow" (i.e., where cooks do their thing) should not intersect with flow-through traffic through the space, and every kitchen should have at least one 36" countertop for prep work.
2. Ergonomics for All
The graying of the baby boomer generation will no doubt raise important issues relating to functionality and user-friendliness. Nevertheless, the first rule of thumb, when it comes to universal design? "It must look good or don't do it," Peterson advised.
Beyond that, the new mantra in kitchen design is multiplicity. "Multiplicity acknowledges the variety of sizes, shapes, ages, and abilities of people who are in the kitchen," Peterson said. That means not just older homeowners, but also kids, short adults, tall adults, and individuals with limited mobility. In other words, everyone. "Universal design is something that benefits not just one target group, but every target group," she said. In the future, houses with the best resale value may well include kitchen work surfaces and storage areas of varying heights, with appliances that are easy to reach. Drawer appliances (dishwashers, refrigerators, and even microwaves) are gaining popularity, as are side-by-side refrigerators and ovens, and storage options that fall between 15 and 48 inches off the floor.
One of today's most popular configurations that is not universally-friendly is the microwave/hood combo that comes standard in many builder appliance packages. "Whenever possible, it's better to put the microwave in a more accessible position that's easier for kids and others to reach so they are not reaching into the microwave over top of a hot stove," Camp advised. "Putting a microwave almost at counter level or even lower in base cabinets makes it accessible to anybody."
3. Luxury for Less
Mortgages for starter castles are no longer attainable for home buyers of average means, meaning they must now pick and choose their luxuries strategically. In this new, more budget-minded reality, builders and designers will be challenged to find interesting applications for modest materials, using the expensive stuff only for accents and memory points. "What we see bubbling up now are comfort kitchens," Camp said. "They are layouts that work well, with a little bit of luxury still there so people can feel good about the environment they are in. But they're not over the top."
"Every kitchen should have at least one special design feature," she advised. But it doesn't have to break the bank. Think backsplashes that provide a unique point of interest with an interesting pattern or antique artifact. Plate racks, exposed stemware holders, and glass cabinet doors also provide stylish accents that don't cost a fortune.
One simple way that builders can conserve costs without sacrificing functionality or good looks is to combine certain appliances. "If you have a cook top and a separate wall oven, you will spend 15 to 20% more than if you buy a range that includes both," she said.
4. Small and Powerful
Although kitchen square footage is less vulnerable to pruning than other rooms in the floor plan, many kitchens are getting smaller as houses get proportionately smaller. That means they have to work smarter and harder. To meet this need, many manufacturers have introduced new lines of streamlined appliances as an alternative to the chunky industrial-grade craze that characterized the boom.
Edwards also encouraged builders to maximize every square inch of volume space with space-savers such as skinny, vertical pantries, pull-out cabinets and spice racks, and wine cubbies that fill odd cavities. "Anything that pulls out is an absolute winner today," she said. That includes pull-out wastebaskets and recycling centers, which are an absolute must.
Moreover, in these smaller kitchens, now is the time to deploy various design tricks that help "grow the space," such as horizontal lines, lighter finishes, mirrored backsplashes, and diagonal patterns on the floor or ceiling, Camp said.
5. Planet Smart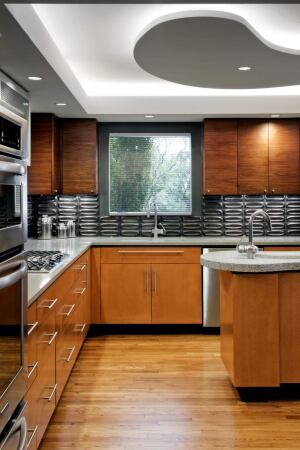 Today's buyers want green features, sure, but with measurable benefits. That means Energy Star appliances and Water Sense-rated plumbing fittings, as well as non-off-gassing finishes combined with good ventilation and air filtration. Peterson cited a recent NAHB/Metlife survey, in which 75% of respondents said they would pay more for sustainable features provided there was a tangible return on investment in the form of energy or water savings.
Reclaimed, recycled, and raw materials also remain popular, for reasons aesthetic as much as altruistic. "Countertops [made of recycled aggregate materials] are number one recycled product in the kitchen," Peterson said. Other eco-favorites include salvaged beams, concrete floors, and concrete block walls, all of which become part of the design statement. "Materials used in their raw state tend to cost less and do not produce off-gassing."
6. Style Conscious
Taste-wise, there are certain tried and true favorites that have yet to lose their mojo with buyers, including stainless steel appliances, granite countertops, and hardwood floors.
But other substrates are making inroads, such as quartz and paper composites, glass and stainless steel work surfaces, large-scale (18" square) floor tile, chrome fixtures, and lightweight hulled concrete. "Color-wise, blue is the new green," said Edwards. "It signifies clean water, clean air, clean earth, and really creates a feeling of calm. Right now we all want to be comforted, and blue is a universal favorite." Also popular on the color wheel: complex neutral grays, cool browns, and pumpkin tones, offset by dark or white cabinetry with Shaker style doors.
And one more thing: Wallpaper is making a comeback. Yes, it's true. "We're seeing designs that are very graphic and used as a large scale feature on accent walls in the living spaces opposite open kitchens," Edwards said.
7. Light Bright
Aging eyes need good lighting, but then again who doesn't appreciate good light? The key is to specify layered lighting for practical usage and visual effect. That includes a combination of ambient, task, and accent lighting. Decorative light fixtures certainly help carry forth a theme (be it art deco or rustic farmhouse) but they also supplement a room's overall brightness and help to eliminate the "swiss cheese" effect of too many recessed can lights in the ceiling, Camp said.
"Task lighting is usually installed under cabinets or in the form of pendant lighting over the island that shines directly on a work surface," she explained, whereas ambient lighting provides an overall glow. Accent lighting highlights specific points of interest, such as art niches. "There are different reasons for lighting to be layered, one of which is so they can be used independently of each other," she added. "Sometimes task lighting becomes a night light when the kitchen is not in use."
LED and fluorescent lights now provide energy-saving alternatives to conventional incandescent bulbs, but it's important to ensure that the color of the light emanating from various sources is consistent, Camp said. "Remember the color of the light will affect the color of the surface underneath it," such as paint hues, cabinet stains, or tile surfaces.
8. Devilish Details
In a small space, the entire kitchen becomes a focal point, so it's important to attend to every detail. "Smaller spaces are less forgiving," Camp said. Little things matter. For example, refrigerators and other appliances should run flush with cabinet faces to maintain clean lines. Two additional areas, in particular, that can make or break a small space are outlets and endings. "You can maximize the impact of your cabinet design and backsplash by integrating or camouflaging outlets with plug molding, decorative plates, or undercounter strips," Peterson said. "And be sure to design the returns on moldings, especially when the design includes cabinets of varying heights or depths. Or when the cabinets return into ceiling molding."
In this same vein, it's important to detail the termination points for tile -- particularly in the backsplash – and ensure that patterns are not interrupted. "In many cases that's the artistic splurge in the kitchen. If you interrupt the backsplash with an ugly switch plate for outlet, you ruin it," Peterson said. As an alternative, consider concealing outlets underneath upper wall cabinets, or underneath standard countertop overhangs using plug molding by Task Lighting. "Mockett also makes pop-up outlets that pop up from flat surfaces, but retract when not in use," she said.
Jenny Sullivan is a senior editor covering architecture, design, and community planning.