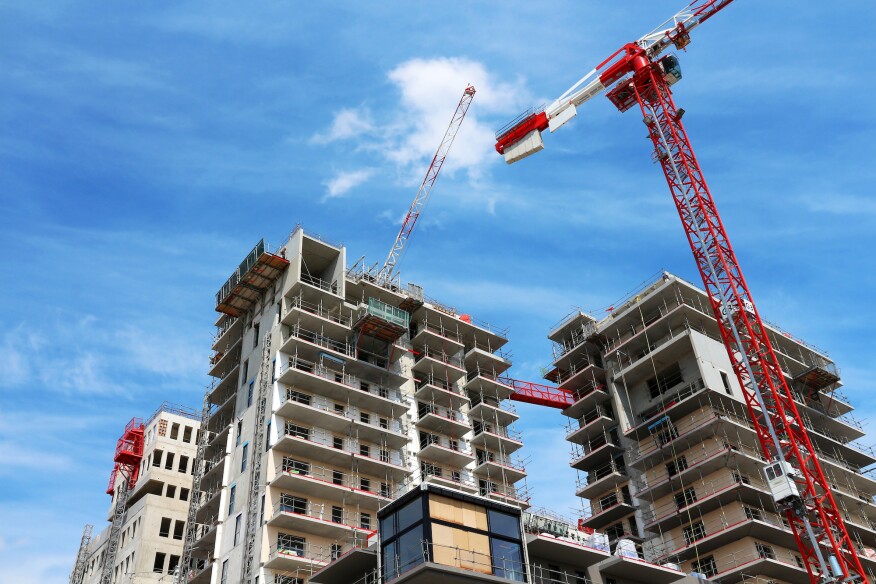 Multifamily construction starts had a slight uptick in the third quarter, which should have a positive impact on future deliveries, according to Yardi Matrix's latest Multifamily Supply Forecast.
Starts remained relatively robust for the first half of the year, with the under-construction pipeline increasing 7.6% in the third quarter. With that, the fourth quarter supply forecast update has increased its projected multifamily completions 5.8% to 563,145 units for next year and 6.2% to 451,430 units for 2025.
In the following years, Yardi Matrix has decreased its projected completions. Its baseline forecast for 2026 has been reduced by 5.8% to 377,622 units, while the 2027 and 2028 projected completions have been decreased by a similar percentage to 397,650 and 403,683 units, respectively.
"We continue to expect a mild recession will start in late 2023 or early 2024. The combination of a weakening economic environment, tight financing conditions, and record levels of new supply coming online will materially depress new construction activity in the latter part of 2023 and all of 2024," noted the report.
According to Yardi Matrix, there are over 1.2 million units in the under-construction pipeline. Of these units, 479,634 are in lease-up, which is roughly in line with the trailing six-month average of 483,000 units but 15.9% higher than a year ago. Most of these units are expected to be completed this year or in the first half of 2024.
The number of under-construction units not in lease-up continues to rise, with 743,967 units, a 16.2% quarterly increase and 35.3% increase from a year ago. These units are expected to be completed in 2024 or 2025.
"On a year-over-year basis, multifamily construction starts most likely peaked late in the second quarter of 2023, and construction activity in the first half was robust," stated the forecast. "Yardi Matrix has so far identified 312,950 units started in the first half of 2023, not far off the 317,428 units started in the first half of 2022."
The trailing four-quarter average for construction starts peaked in the first quarter and stands at 164,373 units for the second quarter.
For this year, Phoenix tops the list for forecast new supply, with 20,541 units, or 6.05% of its stock. Austin, Texas; Denver; Houston-West; and Charlotte, North Carolina, round out the top five. In 2024, Austin is expected to top the list with 26,948 units, or 9.2% of its stock. Phoenix, Houston-West, Denver, and Dallas-North also are expected to increase new supply with over 16,000 units.
Yardi Matrix also noted that construction completion times have remained elevated for garden-style and mid-rise buildings. In the third quarter, the national average completion time for garden-style apartments was 722 days, which is well above the trailing four-quarter average of 682 days. For mid-rise communities, the third quarter national average completion was 760 days, above the trailing four-quarter average of 748 days.