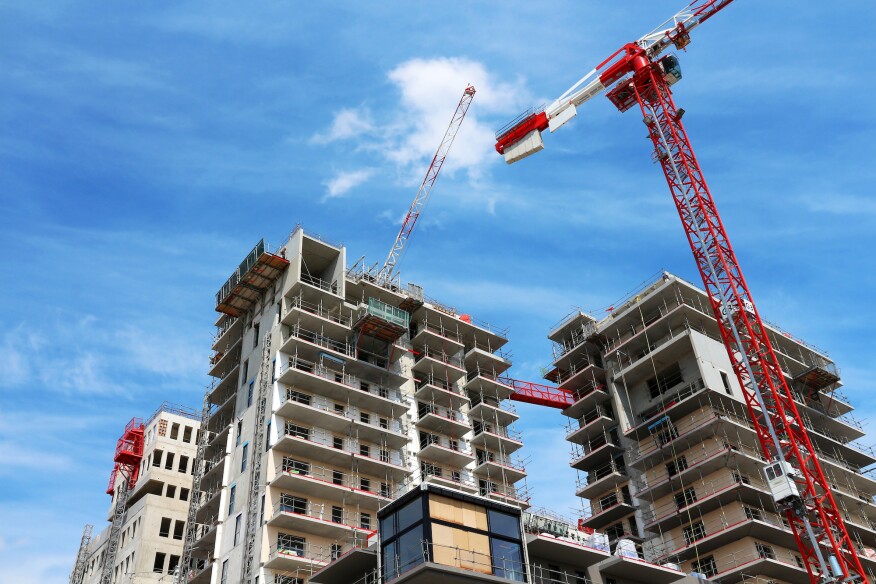 Ongoing construction delays and rising costs continue to hamper multifamily developers, according to the latest round of the National Multifamily Housing Council (NMHC) Construction Survey.
Conducted between Sept. 6 and 21, the survey found 90% of respondents reporting construction delays, with 78% of this group citing delays in permitting and 86% experiencing start delays. According to the survey, an increasing share of respondents, 31%, reported delayed starts due to the lack of availability in construction financing; the percentage of respondents was 15% in June and 7% in March.
Costs also remain on the rise, with 76% of respondents reporting price increases in projects over the last three months. For those experiencing repricing, respondents reported an average increase of 9% over the same three-month period, down from the 7% increase reported in the prior quarter.
One bright spot from the survey is that lumber prices seem to be decreasing, with respondents reporting a decline, 2%, for the second straight quarter. However, the two quarters of decline follow the 45% reported average increase in the first quarter. Developers reported price increases for other essential products; however, those increases were at the same or lower rates than in the prior quarter. Some of the price increases reported included 12% for electrical components, 8% for exterior finishings and roofing, and 6% for both appliances and insulation.
In addition, 21% of respondents reported that labor costs had increased more than expected over the last three months; however, this was the lowest percentage in the last three quarters.
"The nation is facing extraordinary housing affordability challenges in the wake of the pandemic," said NMHC president Doug Bibby. "Costs are up across the board and projects are taking longer and longer to complete. Lawmakers at all levels of government should look at every policy option available to them to reform antiquated zoning, streamline the development process, and incentivize the building of new housing of all types and at all prices points."