Not so long ago, Washington's 14th Street corridor was not a place you'd want to take the family during a summer vacation to the nation's capital. Despite a location less than two miles from the White House, the once-bopping neighborhood had gone from being home to jazz greats like Duke Ellington to serving as a playground for prostitutes, crack dealers, and panhandlers.
But the landscape around 14th Street has changed considerably once again. When you walk up the street, there are people of all colors and races everywhere you look. Urban mothers push their babies in strollers. Singles and couples walk to shop at Whole Foods or enjoy a latte at Caribou Coffee on the corner. Sure, some rough-looking buildings and people remain, but the neighborhood looks nothing like it did a decade ago. One of the most influential factors: the potential that Monty Hoffman, CEO of PN Hoffman, a D.C.-based apartment and condo developer, saw in the area.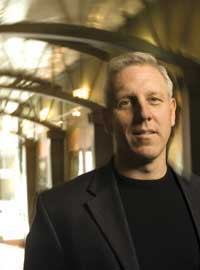 DRIVING AHEAD: Monty Hoffman stands in Hudson Apartments, which helped revitalize the P Street area of Washington. The area's automotive history provided the inspiration for the building's name.James Kegley "My sense is that Monty likes going in, reinventing an area, and helping enliven the city," says Rick Denecke, vice president of real estate banking at Chevy Chase Bank, a Bethesda, Md., bank that is one of PN Hoffman's lenders. "Five years ago, [the corner of] 14th and P streets was in a pretty rundown, rough part of town. Now it's a beautiful area. He was there before a lot of other people. He sees potential in a lot of places that others don't."
So does his firm, which has become known for recognizing and then capitalizing on the opportunity of an area. Whether it's sleek design, an in-depth knowledge of customer preferences, or partnerships with both small landowners and big REITs, like Cleveland-based Forest City and Atlanta-based Post Properties, there isn't a lot of wasted motion at PN Hoffman. Its CEO, who studied civil and structural engineering, set up his company much like he designs a sturdy building: Each part serves a valuable, necessary function.
Humble Beginnings
Monty Hoffman traveled a long road to become CEO of what many consider Washington's preeminent boutique condo developer. The son of a contractor, Hoffman grew up mixing mortar and shoveling dirt. He continued working in construction (and even put in time at a coal mine) to put himself through the University of Pittsburgh at Johnstown. After graduating in 1983, Hoffman took a job building industrial smoke stacks around the country.
As soon as he paid off his college loans, the future leader set out for Fairfax, Va., with $400 and a van. He moved in with some college buddies and took a job as a project engineer at Donohoe Construction Co. After 10 years with the general contractor in Washington, D.C., he wasn't happy.
"In the early '90s, construction was a terrible business to be in," he says.
"I thought I had one shot [to start my own company]. It was desperation."
Sometimes, desperation plants the seeds for inspiration. Hoffman and a friend from Donohoe, Pete Nazelrod (the PN in the company's name), bought an old rowhouse on 16th Street in Washington and converted it into six condos. At the time, with many residents leaving the District because of crime and other city problems, people told Hoffman and Nazelrod they were crazy. But despite a sewer backup the night before, their first open house drew 150 people. Hoffman was relieved. "We used all of our savings, I put a second mortgage on my home, and [I] borrowed money from my parents," he says.
The entrepreneurial duo took their profits from their first success and bought properties in the Logan Circle area, just east of 14th Street. The two friends officially formed the company in 1993 and stayed together until 2004, when Nazelrod retired and moved to Montana.
At first the company stayed under the radar, but its for-sale product soon gained fans. "[PN Hoffman] started this condo craze in Washington five or six years ago," says Sami Kirkdil, president of Bethesda, Md.-based SK&I Architectural Design Group, which has worked on a number of PN Hoffman projects. William Rich, who studies the Washington market as vice president of research firm Delta Associates in Alexandria, Va., agrees. "They are probably one of the first mainstream developers to do luxury product in the District," he says.
Typically, when a developer brings high-end product to formerly blighted areas, critics often aren't far behind pointing to the residents who were displaced and accusing the builder of gentrification. Hoffman, who can get a little prickly on this topic, says these charges don't apply to his company. "We've never displaced anyone," he says. "Our projects have been on derelict and dysfunctional properties, and many times they're on properties with crime. We've gone in and cleaned that up, and I'm proud of it."