Chicago-based 29th Street Capital will add its own addition to The Mill at Broadway, a master-planned community under construction on 9 acres in a designated Opportunity Zone in Sacramento, Calif. The firm is developing the Broadway Apartments, a 444-unit community that will add to The Mill at Broadway, a for-sale home community with more than 300 single-family homes, duplexes, and condominiums.
The goal is to bring workforce housing to a state in desperate need of housing options and a booming city. Sacramento's population surpassed 500,000 in 2018 and is now the fourth largest MSA in California. Most of the units will be one-bedrooms to cater to a workforce tenant base.
"We are excited to be able to provide quality housing for Sacramento's working professionals while also creating an investment vehicle that will be beneficial to our investors while deploying capital in one of Sacramento's underserved communities," said 29SC's managing principal Robb Bollhoffer.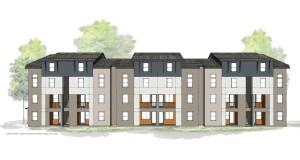 The public community space will feature a park, a community market, a food hall, jogging trail access, an urban farm, grilling stations, a fitness center, and an amphitheater. The units will be located in 13 separate buildings. "The goal of the development is to repurpose the land and create an inviting neighborhood in an area that has been historically industrial, while not denying its history," said Kevin Smith, senior vice president for 29SC.
Sacramento-based architecture and design firm Jeffrey DeMure + Associates Architects Planners has been enlisted to head up the design and architectural drawings of the apartments. The interior elements of the units include stainless steel appliances, quartz countertops, energy-efficient LED lighting packages, and vinyl plank flooring. Construction is slated to start in early 2020, with the first apartments anticipated to be ready for move-in by late 2020. The entire community is scheduled to be completed by the end of 2021.