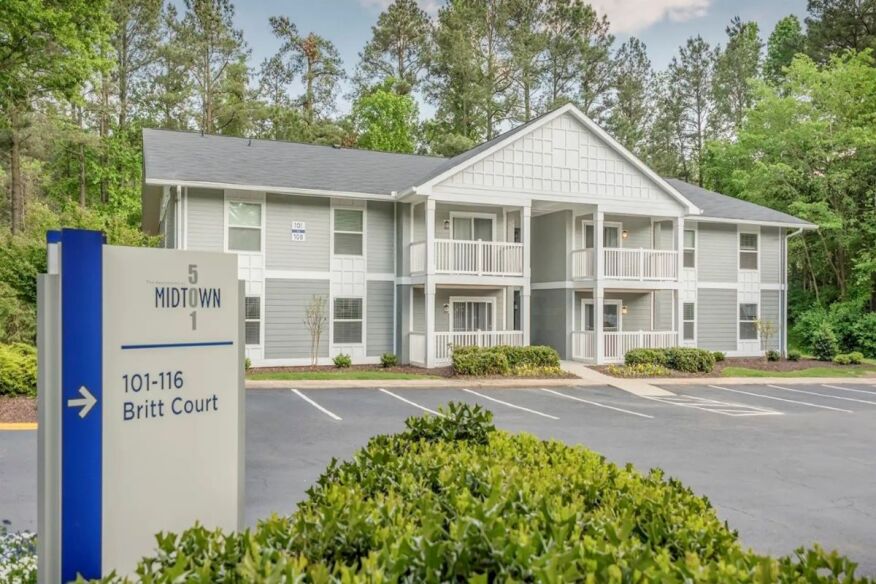 Entering the North Carolina market, Ashcroft Capital has announced the acquisition of The Apartments at Midtown 501, a 248-unit garden-style community in Chapel Hill. Birchstone Residential, Ashcroft's in-house property management company and construction affiliate, has assumed management.
"The current capital markets present challenges to our acquisition team. As such, we remain highly selective," says Frank Roessler, founder and CEO of Ashcroft. "For this reason, we are focusing on excellent submarkets such as Chapel Hill, which is a high-growth market where we want to invest. We look forward to expanding our portfolio there. Over time, we plan to build a sizable footprint in the Raleigh-Durham-Chapel Hill area. And though we're not in a rush, we saw Midtown 501 as too good of an opportunity to look away from."
With an average unit size of 1,106 square feet, Midtown 501 offers one-, two-, and three-bedroom units. Currently, the apartments feature granite countertops, island kitchens, stainless steel appliances, washers and dryers, walk-in closets, and balconies or patios. Amenities include a pool, a clubhouse, a business center, a fitness center, a game room, a dog park, a volleyball court, grilling areas, a tennis court, and a children's playground.
The former owner of Midtown 501 oversaw renovations of the amenities and apartment homes in 2015. The previous upgrades will allow Ashcroft and Birchstone to work on operational improvements and light upgrades, including tech packages, lighting, plumbing fixtures, tile backsplashes, and a modernization of the color scheme. There are plans to improve the fitness center, the pool, the clubhouse, sports courts, landscaping, and more.
"Given the current volatility in the capital markets, Ashcroft is currently focused on acquiring institutional-quality properties in extremely strong locations. That description fits Midtown 501 to a tee," says Scott Lebenhart, chief investment officer for Ashcroft Capital.
"We believe this approach will help to mitigate risk while still having the potential to capitalize on multifamily's strong fundamentals. In the case of Chapel Hill, this is a submarket with multiple demand drivers, which is something that we look for. Combine those drivers with the limited availability of single-family homes in the area, and we believe the table is set for Midtown 501 to perform very well."
While actively pursuing additional markets, Ashcroft owns communities throughout metro Atlanta, Texas, and Florida. Midtown 501 is the first property purchased through the Ashcroft Value Add Fund III, which is targeting multifamily assets in select markets throughout the Sun Belt.