After taking over Kushner Cos. in turbulent times, Jared Kushner has pushed growth in New York and around the country. PHOTO: Adam Lerner
---
Jared Kushner hadn't been running New York–based Kushner Cos. long when he noticed something problematic in early 2007: He could no longer justify buying apartments.
"I remember sitting with my dad and saying we couldn't make sense of the buys in the markets—buying at 4 caps and financing at 6 percent," Kushner says. "The dynamics really didn't seem to make sense for multifamily."
So, the Kushners made a decision. "We basically said, if we're not buyers, we're sellers," Jared says. "We were able to market the portfolio and get an extraordinary price."
In November, Bell Partners bought Bell Wakefield in Raleigh, N.C.. PHOTO: Courtesy Bell Partners
---
The timing was impeccable. Kushner sold 17,000 units in 86 complexes to AIG and Morgan Properties in June 2007 for $1.9 billion. In 2008, the economy fell into recession. By 2010, acquisition pricing looked a lot better to Kushner (as it did to other opportunistic buyers around the country). So, over the past four years, the company has scooped up $3.5 billion worth of assets as the younger Kushner has expanded the firm's footprint beyond the Garden State to his new home in New York City, plus seven markets around the country.
Early on, Kushner found a number of buying opportunities. "The last couple of years have been a phenomenal time, because [interest] rates have been low, cap rates have been high, and the spread seemed to make sense for us to be very aggressive buyers," Kushner says.
But that dynamic is changing as more investors chase yield off the beaten path. "We haven't been able to find the opportunities in the seven national markets that we're in," he says. "Gardens have been trading at prices beyond where we are comfortable. So, we're super focused on New York City, which is a market that seems to have no end in sight for how it will continue to perform."
Kushner certainly isn't alone. As single-property transactions and cap rates head to near-record levels, interest rates perk up, and inflation fears hover, some industry analysts (and even a few executives) have started to ask themselves the same question the Kushners pondered in 2007: Is now the time to think about selling?
As it seems with every question in real estate, there's no easy answer.
Disposition Decision
Some indicators say it's 2007 again. As of the third quarter of 2013, cap rates came in at 6.2 percent nationally. "That's every bit as low as 2007," says Dan Fasulo, managing director at New York–based Real Capital Analytics (RCA).
With $22 billion worth of sales volume in the third quarter of 2013 and $30 billion worth in the fourth quarter of 2012, the apartment market was reaching the lofty volume it hit during the last boom. In fact, ­single-property deals are at an all-time high.
Part of that might be from a lack of supply on the market. That situation could actually make dispositions appealing for opportunistic sellers in 2014, especially for those that made value-add acquisitions (and have now stabilized those properties) during the recession.
"Now is a very good time to sell because of the number of buyers in the marketplace," says John Sebree, director of Calabasas, Calif.–based Marcus & Millichap's National Multi Housing Group.
You can put Lili Dunn, chief investment officer for Greensboro, N.C.–based Bell Partners, in the opportunistic category. Bell, which completes about $1 billion in transactions a year, seizes good opportunities to buy and sell. But, in the near term, the company expects to be a net seller.
"Pricing is back to peak levels," Dunn says. "There seems to be a dislocation between cap rates and projected growth rates in some areas. It is a great time to take advantage of markets that have peaked and/or assets that have maximized operating performance."
While some companies, like Bell, can be opportunistic sellers to prune their portfolios, there is an argument to be made that this may be a better sales environment than owners may see in the next few years. So, if large institutional investors want to sell, now is the time. Already, some are leaving the market. Bloomberg reports that Washington, D.C.–based Carlyle Group "is reducing holdings of multi­family housing as rent growth slows from a post-recession surge."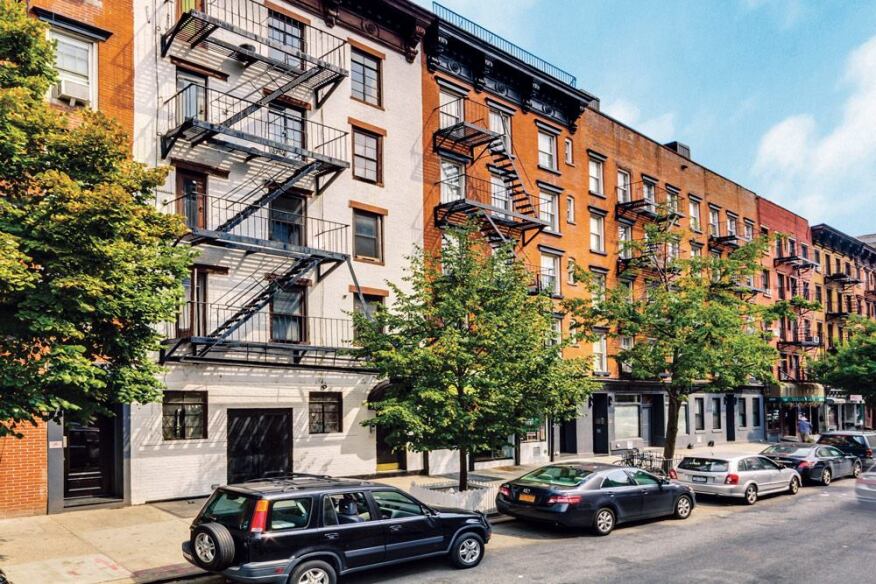 Kushner Cos. purchased 195 East Fourth Street, along with six other rental buildings in the East Village of Manhattan in March. PHOTO: Courtesy Kushner Cos.
---
Many of these investors may be looking to park their money in other classes, such as office and retail. In fact, Fasulo sees more upside in office and retail, where rents are still 20 percent to 30 percent lower than peak. "I think the market will be hard-pressed to continue its momentum," Fasulo says. "As far as double-digit gains in pricing, I think that game is pretty much over. Your serious players in the market are ­expecting debt costs to be higher going forward, with little room to raise rents."
Though there's not a lot of evidence of it so far, rising interest rates could eventually pull cap rates up. Ten-year Treasuries jumped from 1.6 percent in May 2013 to 2.88 percent at press time in mid-December. If cap rates eventually follow, buyers might have to make a decision.
"Sellers have expectations of where prices should be," Kushner says. "The question is, do cap rates widen out and do people keep hitting those prices and settling for less return on investment relative to risk?"
If buyers eventually balk at those decreasing returns, sellers might have to make price adjustments. Overdevelopment could eventually add more supply to the market, also forcing sellers to adjust.
"With supply ramping up, you might face more competition from other sellers over the next few years than you might in the near term," says Ryan Severino, senior economist and associate director of research at New York–based Reis. "If you're in a position to harvest those gains [from a value-add situation] and redeploy that capital into something else that might present better return options going forward, now isn't a bad time to do it."
Reasons to Be Optimistic
Just because it seems like cap rates can't go down any farther, and many formerly favorable markets will be flooded with supply, that doesn't mean everyone wants to sell.
There are good reasons to hold, too. And, they're many of the same reasons the apartment sector has been a favorite of investors over the past few years.
Dunn argues that pent-up demand from Echo Boomers (with 21.8 million individuals ages 18 to 34 living at home in 2012, according to the Census), and the promise of economic growth in 2014 and 2015 mean the apartment market hasn't hit its ceiling.
"Although the rate of acceleration is slowing and pricing is a concern, apartment fundamentals are still generally healthy," Dunn says. "Rental housing benefits from strong demand driven by robust rental household formation, which is fueled by demographic trends and, to a lesser extent, job growth."
Sebree predicts the apartment market has "a lot of upside moving forward over the next four or five years, at least," pointing to about 2.2 million new jobs created in 2013. "That is a recovery," he says. "It's a lethargic recovery, but it's still a recovery that's gaining speed. This year, depending on whom you talk to, we're anticipating 2.7 million to 3 million new jobs. These new jobs will continue to increase the formation of new households."
Dunn doesn't think there will be an oversupply of apartments to sap the demographic-driven demand. She points out that the supply in the pipeline is expected to decline after hitting 300,000 units in 2014 and thinks supply concerns are overblown. "New supply is also still within reasonable levels of long-term averages," she says.
While Fasulo see investors leaving for other classes, Severino thinks weaknesses in those sectors will help apartment investments maintain their value. "Some people are still risk averse about other property types and are taking a long-term hold approach to this," he says.
2008 Redux?
With these economic tailwinds, Severino doesn't expect to see a market implosion like the one that occurred in the late 2000s, where condo converters, not buying on a cap-rate basis, pushed prices to unsustainable levels.
"Even in the markets where cap rates are rising, it isn't like 2008 and 2009, where we had a massive expansion in cap rates that clobbered the market," Severino says. "I don't think you'll see that performance from the underlying economy or see demand erode like that [again]."
Fasulo has concerns about pricing, but he isn't planning for an Armageddon-like scenario. "Unless something blows up, I don't see a hard crash," he says. "But I guess, who does see a hard crash? By just looking at line graphs, we [have] leveled off. Cap rates aren't moving lower. The rate of increase in pricing is slowing. You can expect more of that over the next couple of years."
But what does that mean for an apartment owner like Kushner, who has taken advantage of the market cycle over the past decade?
"You always have to be re-evaluating," he says. "I never thought I'd have the conversation [to sell the portfolio] the last time. We have some assets that we think we would never sell. But I say 'never' with a footnote, because you never know."