In an effort to ease the burden caused by COVID-19 to both apartment renters and owners, the CARES Act offers loan forbearance on federally backed mortgages to multifamily owners who suspend evictions for their tenants.
In its own response to the coronavirus pandemic, the Federal Reserve has committed to purchasing agency commercial mortgage-backed securities, as part of a larger $200 billion mortgage-backed securities (MBS) allocation.
Given these federal actions, it is important to remember just how much multifamily mortgage debt is held by Fannie Mae, Freddie Mac, and other government agencies.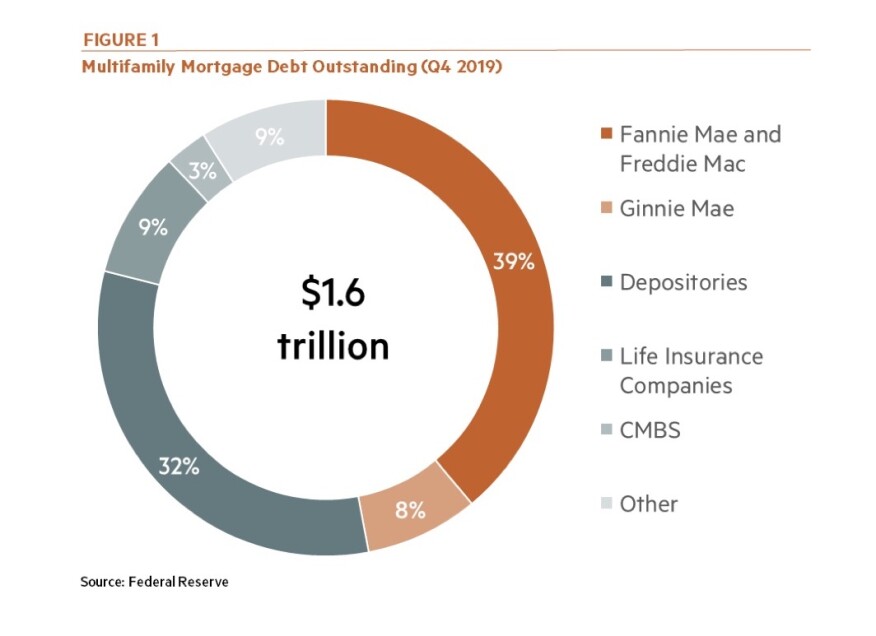 According to Federal Reserve data, Fannie Mae and Freddie Mac accounted for 39% ($619 billion) of the nation's $1.6 trillion in total multifamily mortgage debt outstanding in the fourth quarter of 2019, the highest share on record. Ginnie Mae, meanwhile, held an additional 8%.
This means that nearly half (47%) of all multifamily mortgage debt outstanding is backed by the federal government and, thus, qualifies for the loan forbearance conditions detailed under the CARES Act.
For some perspective, this is a higher share than during the Great Recession. For example, in 2009, Fannie, Freddie, and Ginnie held a combined 36% of total multifamily mortgage debt outstanding. A decade earlier, in 1999, they held just over one-fifth (21%).
The National Multifamily Housing Council (NMHC) views these federal legislative and regulatory actions as critical in supporting the multifamily mortgage market. While NMHC Rent Payment Tracker information to date indicates that the vast majority of apartment households continue to meet their rent obligations, should the stresses of the COVID-19 crisis significantly affect apartment residents' financial health going forward, it may, in turn, hinder apartment owners' abilities to meet their mortgage debt obligations.