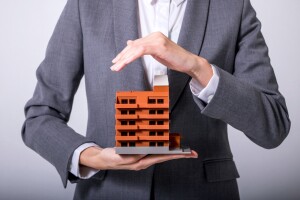 In recent years, multifamily owners, operators, and developers have been hit by dramatically rising insurance costs.
According to the National Multifamily Housing Council's (NHMC) State of Multifamily Risk Survey and Report, 61% of respondents have been forced to increase their deductibles in the past three calendar years to maintain affordability.
Coverage limitations, deductible increases, and the absence of an affordable or viable private insurance market have increased the financial risk borne by housing providers and strained property operations, which has impacted rents charged to residents, NMHC reports. The survey revealed that 45.6% use one insurance broker/consultant, while 30% use two and 21.9% use three or more; 35.7% use an outside vendor to handle third-party insurance compliance.
"These new findings and risk mitigation guidance come at a critical time for multifamily businesses and our residents," says Sharon Wilson Géno, NMHC president. "The current confluence of high interest rates, increasing costs, and an expanding need for affordable and attainable housing highlight the importance of housing providers and policymakers having a clear understanding of insurance market challenges. A more stable insurance market will help keep costs manageable, which, in turn, will make rent more affordable."
For policies, 57% of respondents noted that insurance carriers included new policy limitations to reduce their exposure, and 34% reported that insurance carriers limited or reduced coverage amounts. Over 50% of respondents have a Named Storm deductible that affects flood coverage, and 55.4% of respondents have a Crisis Management Plan. For 24.6% of respondents, the Texas/Southern state freeze was responsible for the largest loss in the last three years, and for 23.8% of respondents it was fire.
The overall multifamily risk landscape has coincided with the out-of-control insurance costs limiting firms' ability to attract investments required to meet housing and affordability needs, the report notes. The NHMC recommends lawmakers look for ways to incentivize a more robust insurance and reinsurance market for multifamily housing to have affordable, attainable, and quality lines of coverage available.
"One obvious, but critically important, policy solution for lawmakers who are serious about housing affordability would be to finally reform and provide for a long-term reauthorization of the National Flood Insurance Program," Wilson Géno explains. "Ensuring that federal programs and funding are designed to help mitigate the risks rental housing providers face will also go a long way toward reducing insurance costs and enhancing housing affordability."
The survey represents 160 firms with over 1.5 million owned units represented and 1.5 million managed units represented across market-rate Class A to C, subsidized/affordable, purpose-built student housing, and age-restricted asset classes.