Irresistible Site
For the past two decades, locally based developer Urban Land Interests has shifted its focus from mostly residential development to commercial adaptive reuse, particularly in downtown Madison, Wis., its base. But a prime site with two tobacco warehouses became available, and it was back to residential rehab for the firm. An extra parcel, being used for construction storage, begged for a new apartment building, with young professionals relocating downtown to live and work. Moreover, the site offered spectacular views of Lake Monona, the state capitol building, and a city park and bike path. "We knew it was a good site but didn't realize how great," says Brad Binkowski, ULI president.
Modern Context
Instead of duplicating old area structures, ULI, working with Chicago-based architecture/interior design firm Valerio Dewalt Train Associates, produced a striking modern design to maximize views and add some hipness. The five-story building, named Seven27 for its 727 Lorillard Court address, is "a shining beacon of contemporary architecture in a downtown with too little great design," says Binkowski. The development nonetheless fits its neighborhood with historically colored masonry; large, repetitive window openings; and low-rise form, says project architect David Jennerjahn, AIA. Jennerjahn designed a U shape to gain a courtyard; introduced heights of three, four, and five stories; cantilevered the building's wings to make the property look less dense; and added cutting-edge brushed aluminum accents.
Interior Magnet
Inside Seven27, the architects repeated the hues of a nearby set of operational railroad lines sporting a palette of rich, deep colors. The palette also appeals to the community's prime audience, Millennials, who like to gather in public spaces. "Social interaction is the driving force of this younger generation," Binkowski says. Accordingly, the building's ground floor features a large lobby; a big community room with a refrigerator and microwave ovens, seating, and a TV; a separate gym; and a pet-washing station. Glass walls open to the landscaped courtyard, another hub with seating, barbecues, and a fire pit.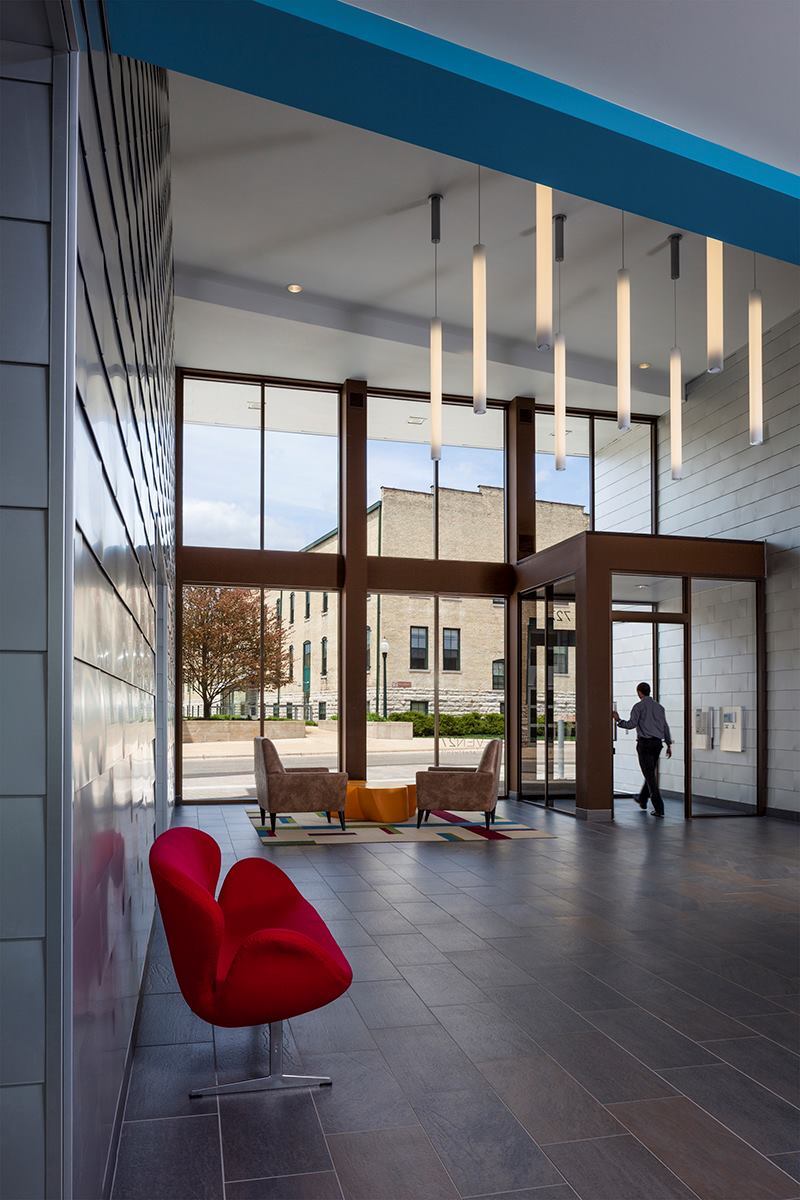 Cool Cache
To attract Millennials, and some empty-nesters, the developer and architect chose a roster of currently chic apartment features that convey quality yet are priced right: quartz rather than yesteryear's granite for countertops; subway-tiled backsplashes; overscaled windows; 9-foot-high ceilings; wood-look vinyl plank flooring; and wood cabinets, some with glass fronts. Even though rents are the highest per square foot in downtown Madison, the building leased up fully six months after opening last November. Seven27's 117 units range from 472-square-foot studios, at $1,010 a month, to 1,429-square-foot two-bedrooms for $3,020 a month.
Green Without LEED
ULI didn't pursue LEED certification for Seven27 because of the extra development costs involved, the property's rent scale, and the fact that LEED status isn't typically warranted in a rental, says Binkowski. Yet, the building still honors sustainability, having replaced a vacant site; incorporated rain gardens for roof-water runoff, as well as permeable pavers to absorb stormwater and a green roof atop its parking structure. In addition, the team used local materials wherever it could, and included bicycle storage with a repair shop among the building's amenities. Abbie Moilien of Madison-based landscape architecture firm Ken Saiki Design chose native plantings for the community that could withstand the cold Wisconsin winters. She planted a palette that's geometrically structured by the building before transitioning to prairie farther away. Alderperson Mike Verveer, who represents downtown Madison, says the building has helped attract a diverse age group, mainly young professionals, to a growing number of high-tech companies in the city.