The average size of an apartment has decreased in almost every city over the past 15 years or so. Since 2009, the average size of a newly built unit has decreased by 7% , or 70 square feet, from 988 square feet to 917 square feet, according to RCLCO, a Maryland-based real estate advisory group. But shrinking unit sizes across the nation shouldn't have to mean that residents sacrifice storage or the ability to perform everyday tasks, like cooking in a smaller space.
Luckily, there are a number of products on the market that are specifically designed for small space living. These products for small units offer a scaled-down version of traditional appliances that still come with all the functions of a standard-sized model with a smaller footprint. Between thoughtfully designed appliances, clever cabinets that capitalize on unused space to provide more storage, and smart organization products for pantries, closets, and bathroom vanities, these products will ensure your residents are still living large even if their apartment is on the small side.
Haierdcbyyywavxufbwvxweyatutby
In a line of new appliances designed for small-space living, Haier introduces a 15-cubic foot, four-door french bottom mount refrigerator that provides just as much food storage in a smaller model. The 28-inch wide, 26.5-inch deep appliance features adjustable glass shelves, touch temperature controls, two freezer drawers, energy-saving LED lights,Quick Cool and Quick Freeze technology modes, and a smudge-resistant finish. The line of appliances also includes a 24-inch, 2-cubic-foot gas freestanding range; a 24-inch above-range microwave oven; a 24-inch electric cooktop; a 24-inch single, 2-cubic-foot left/right swing "True European" convection oven; a 24-inch slanted black-glass chimney hood; and a 24-inch, 2-cubic-foot combination washer/dryer with a stainless steel drum.
The 24" Combo TWINWash System from the LG SIGNATURE line is a combined 2-in-1 laundry system that both washes and dries loads in the same unit and still saves energy. The appliance is powered by LG's Inverter HeatPump, which requires half the electricity of conventional dryers. The system saves up to 30 minutes per wash cycle, is connected to WiFi and can be controlled via a smartphone, and features a smaller unit for a second load in the footprint of the laundry pedestal.
The Aravo line by bathroom furnishing manufacturer Ronbow is a collection of fixtures designed for a small bathroom. The Petite collection measures 18 inches wide by 14 inches deep, and each vanity has extra shelves or drawers installed for added storage, and includes other elements like an LED mirror with a frame of illumination surrounding it, a hairdryer holder, and a side-door storage to maximize usage of space. A ceramic sinktop fits on top of the Petite vanity, and the sink features a geometric beveled shape with a removable drain cover that is integrated into the floor of the sink, which creates the illusion that the water is disappearing even though you can't see the drain. The Petite comes in two color combinations: Glossy White with a Sandy Oak finish and a Glossy Empire Gray with a Smoked Walnut finish.
The compact 20-Inch Slide-In Gas Range from Summit Appliance features four sealed 9,000 BTU burners, a 2.5-cubit-foot oven cavity, and a broiler drawer, all in a scaled down width. The oven includes a window and interior light for easy monitoring while cooking, push-to-turn knobs, electronic ignition, and removable burner caps for easy cleaning. The oven is available in a stainless steel finish.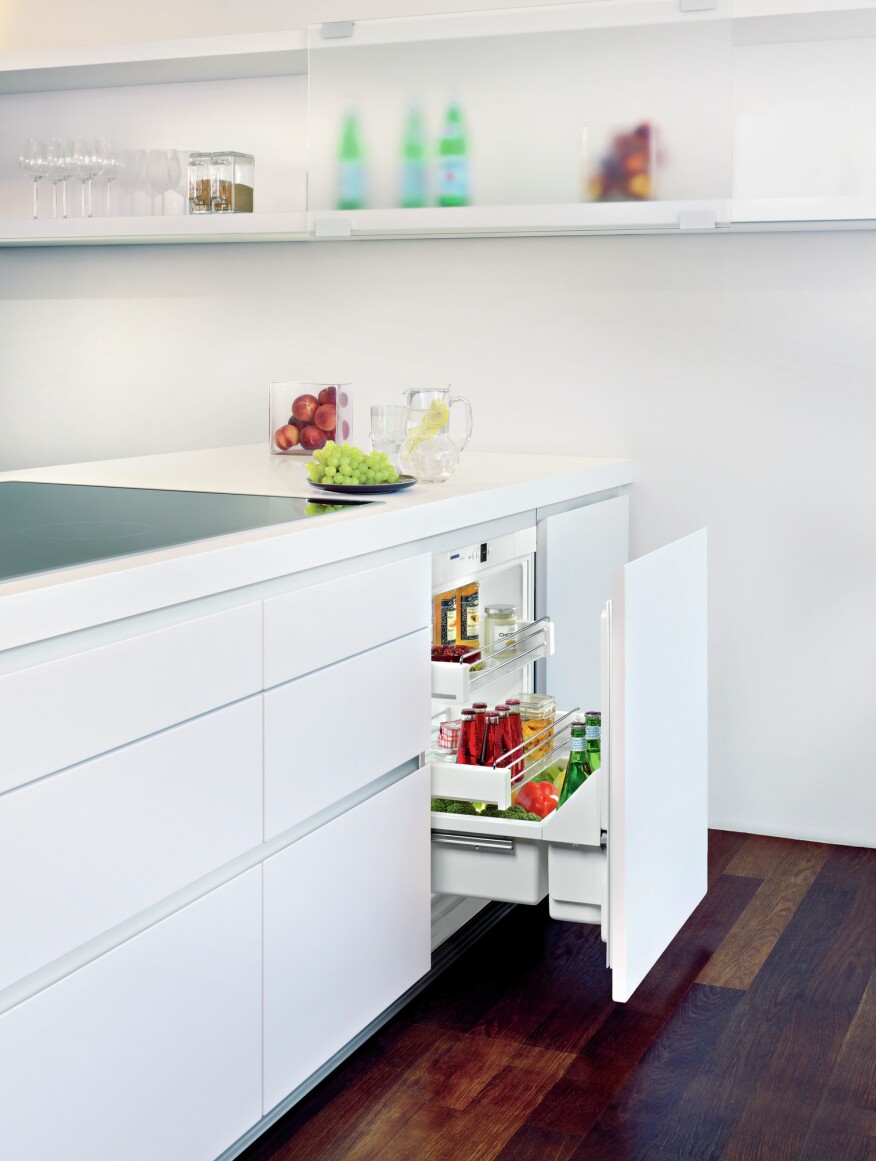 The UPR 503 undercounter pull-out refrigerator from Liebherr packs a lot of fridge space into a small footprint when kitchen space is tight. The fridge fits cabinets 34 inches high, and is adjustable within 2 inches to fit counter heights and depths. The drawer of the unit offers self-retraction and soft close, features adjustable, scratch-resistant shelves to customize the storage configurations, LED lighting, touch screen controls for temperature settings, and is Energy Star rated. The door of the fridge can be customized with panels to blend in with the existing cabinet doors for a seamless look.
Bosch offers six different dishwasher models that measure only 18 inches wide. The 18-inch Panel Ready Dishwasher from the 800 series (shown) doesn't sacrifice loading space in a smaller model—a third rack offers offers 30% more loading capacity for small items. The three racks can be configured in nine different positions depending on the load. The dishwasher runs quietly at 44 dBA, prevents leaks while running, and shines a light on the floor so residents know when the appliance is operating. The Panel Ready model can be customized with a front panel to match existing cabinetry. Two other 800 series 18-inch models with three racks are available in a stainless steel finish, while the 300 series models with two racks are available in a stainless steel, white, or black finish.
Traditional cabinet doors that swing open can take up a lot of space, something that not all kitchens have available. Hafele's Frontino coplanar door hardware (shown) slides open, providing full access to everything in the cabinet without taking up any extra space while open. The hardware is available for both upper and base cabinets, and features integrated soft open and soft close for doors up to 88 pounds each. The company also offers a line of cabinetry that can be lifted, tilted, swiveled, or folded above the user in smaller kitchens, and some versions come with a touch to open feature.
Hardware Resources' Revolving Boot and Shoe Rack is a 28-inch-wide rack that pulls out of the closet and pivots 180 degrees, allowing easy access to every pair of shoes and featuring the ability to store twice as many shoes as traditional racks. The system is available in four, eight, or 12 shelves, in either a white powder-coat or silver powder-coat frame and chrome shelving, or a 61-inch-high revolving rack that holds more than 20 pairs of footwear in silver powder-coat frame and chrome shelving. Optional plastic liners help keep shoes and boots clean.
The Toe Space Drawer from Dura Supreme Cabinetry increases kitchen cabinet storage by utilizing a space that is commonly forgotten. Fitted along the bottom of any straight 18-, 21-, or 24-inch cabinet, the extra drawer increases storage without adding more square footage to the kitchen. The touch-latch mechanism allows users to open the drawer with the touch of their foot, eliminating knobs or handles.