Sudberry Properties' master plan for its new community Civita was started in 2002 and designed to become a large, multi-use, infill development on 230 acres in San Diego's Mission Valley area. The approval process and environmental work for the site—which envisioned almost 5,000 homes and apartments in a range of price points, styles, and sizes, plus nearly 1 million square feet of commercial space¬—took six years. Then came the recession. Yet, work kept going because of Sudberry's joint-venture partner, a family business wanting to transform its former sand-and-gravel quarry. Because the sand had been depleted, the family looked for another use and decided on much-needed area housing.
Meaningful Names
Civita's first homes were completed in 2011, with high interest, which Sudberry senior vice president Marco Sessa credits in part to a light-rail trolley that runs through the area, proximity to the airport, and a healthy job market. The name Civita is a made-up word to denote "civic life" says Sessa, and two of its streets, Alta and Franklin, honor the family members who had bought the land in the early 1900s.
The development's residential work is now one-third finished, with commercial work beginning, office space to come, and a final time line of 2024–25. Considering that the first conversations with the family about the property began in 1997, Sessa advises other developers tackling such large-scale work to "be patient and solicit community input."
Two-Part Harmony
Sudberry hired architecture firm Newman Garrison + Partners to develop 612 luxury apartments on 10.04 prime acres, and named the building "West Park" for a park on the site and its location on the master plan's west side. The firm divided the apartments between two structures, each five stories high and with a swimming pool and outfitted roof deck, but with distinct looks so the overall aesthetic isn't conventional.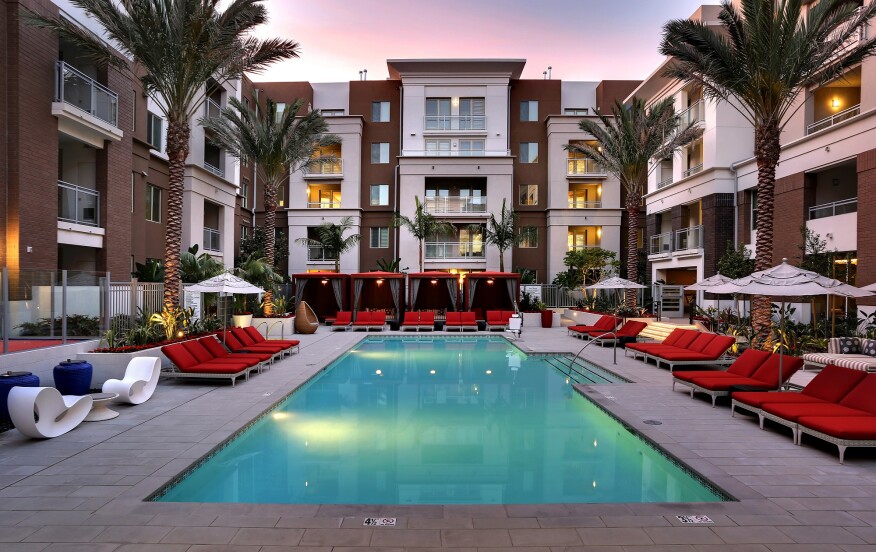 Both buildings veer toward the contemporary but with brick siding and traditional cornices, in addition to hip metal accent panels, stucco siding, and glass railings. "We wanted luxury rentals that didn't exist in the market," says architect Kevin Newman, CEO and managing principal.
The two buildings also have distinct interiors: one with a boutique hotel feel of rich wood tones and textures, and the other a bit trendier, with lively periwinkle and lemongrass colors. All of the design was planned by Rebecca Luong at Style Interior Design in Irvine, Calif.
Amenities Aplenty
Because Civita was designed to be a bustling neighborhood, the team planned hardscaping, seating, game tables, and cooking areas to foster social interaction outdoors. A third pool was constructed at a major corner with an illuminated glass-and-steel tower as a symbolic beacon, Newman says. In between all lie greenery, paths, and auxiliary buildings that house a leasing office and indoor amenities including a movie theater, fitness and rec center, and demonstration kitchen.
"We wanted residents to use the facilities at either [building]," Newman says. Lifescapes International, a Newport Beach landscaping firm, planted for a lush, resort feeling with wide walkways; layers of plants in varied hues, textures, and fragrances; mature "sculptural" landscaping that yields an established look; "troughs" with yet more plants and rocks; and a seamlessness between outdoors and indoors, says Mike Meyers, project director and senior principal.
High Efficiency
In each building at West Park, the units range from 546-square-foot studios to 1,355-square-foot three-bedrooms. Both buildings were designed with sustainable features, from LED lighting to energy-efficient appliances, solar roof panels, water purification systems, hydronic HVAC systems, and electric-car charging stations. LEED certification wasn't sought, however, because of the expense and time required, yet the buildings meet strict California green guidelines, says Newman. (Civita itself has received a LEED Neighborhood Development Gold Rating award.)
Leasing has been hugely successful, with 90% of the apartments rented since both phases were completed last July. Among West Park's many kudos has been recognition from the National Association of Home Builders, which gave the apartments a 2017 Gold Award for Best Architectural Design of an Attached Community.