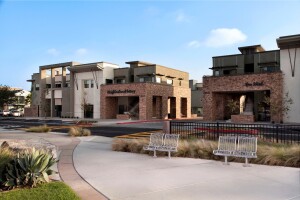 How to use retail has always stymied developers. If successful, it can add life to the ground of a project. But if it fails, empty storefronts can be a drag on an otherwise successful development.
One affordable housing developer, C&C Development in Tustin, Calif., thinks it has the solution.
C&C's solution? It has established its own retail tenant in the form of a laundromat service that, in the case of ParkView Apartments—its most recent mixed-use development in San Marcos—can be the first and frequently most valuable retail lessee in the door. With its laundromat, C&C can quickly fill a potential void clearly seen at street level that provides the all-important anchor that gives other potential lessees a comfort level to sign on the dotted line.
Read more >