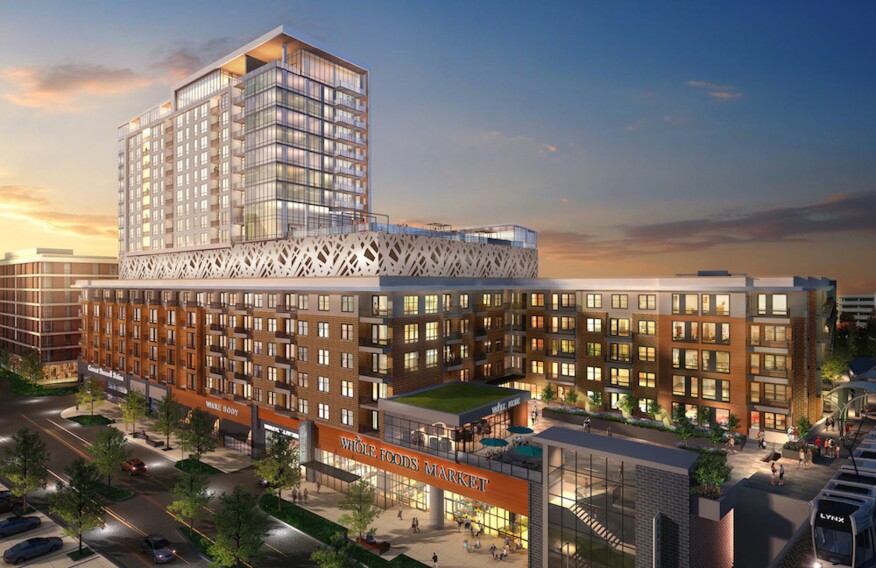 Just outside Uptown Charlotte's light rail stop at Stonewall Station sits the city's convention center, the NASCAR Hall of Fame, and in the not-too-distant future, an elaborate transit-oriented development with luxury apartments and a Whole Foods Market.
Charlotte-based Crescent Communities broke ground on the project earlier this month and plans on opening the mixed-use development in 2017. Ben Collins, senior vice president for Crescent's multifamily business, says the project hinged on attracting Whole Foods to the area. Crescent began courting the grocer in 2011.
Over the last few years, Crescent had to acquire two separate parcels at the site – one owned by a well-known Charlotte family and the other owned by the city itself. Crescent closed on both a few months apart in 2014 and soon after signed a lease with Whole Foods.
The supermarket will be the first full-size grocer in Uptown Charlotte, Collins says. "Today Uptown Charlotte is the most desirable commercial destination," he adds. "It doesn't have all the everyday living conveniences that people who live uptown would need. Being able to bring a full-size grocer uptown, right by the light rail, really is a game changer for this area because it will allow the tens of thousands of residents who are in either walking or light rail distance from this grocer to fulfill their everyday needs."
Since Crescent has been in Charlotte for 50 years, Collins says it was imperative to bring something to the area that was needed. "I drive by the site everyday – we knew that this was an opportunity to do something special," he says, "and our vision for this property is to redefine urban living in Uptown Charlotte."
In addition to the Whole Foods, Crescent will construct two multifamily buildings on site – one a five-story product with mostly studios and smaller one-and-two-bedroom units ranging from $1,250 to $2,500. It targets the millennial demographic. The second is a 12-floor high-rise on top of a 10-story parking deck targeted toward empty nesters and baby boomers. The building will feature mostly master bedroom-dominant, two bedroom units ranging from $2,000 to $6,000. There will be more than 450 units in all.
The project also calls for two hotels. Collins says Crescent is in negotiations with two hotel developers and expects to close on one deal in the coming weeks and the other later this year. City officials, Collins says, were adamant about adding hotel rooms to the area, although it wasn't a requirement when they sold their parcel to Crescent.
This project will be successful, Collins adds, due in large part to its proximity to the light rail stop. Thousands of people use the station each day and they will soon have a Whole Foods café about 150 feet away. "We believe that this is one of, if not the most, transit accessible grocers in the country," he says.
Crescent will break ground this week on another mixed-used, transit-oriented development in Charlotte's North Davidson Arts and Entertainment District. The development will feature an apartment community, local retail, flexible open plazas and an infusion of the area's cultural personality. It's also expected to come on line in 2017.
Crescent is betting big on Charlotte, and Collins says that's for good reason. The city has consistently added jobs in recent years, he says, and has cultivated a vibrant restaurant scene and great sports culture – the NFC champion Carolina Panthers, Charlotte Hornets, and a minor league baseball team, the Charlotte Knights, all play nearby the Stonewall light rail station.
Plus, Collins adds, Charlotte's cost of living is low, which attracts young people and empty nesters. He says 20% of Crescent's renters are empty nesters.
"Our job is to create living options for the people who are moving here," Collins says. "We look at who's moving here and what types of jobs they're taking. We're trying to deliver a product that meets that demand."