Englewood Cliffs, N.J.–based Aptitude Development is close to breaking ground on Campus Plaza, its second purpose-built student housing development at Syracuse University in Syracuse, N.Y. When complete, the community will add 287 beds in 168 apartments, plus 18,800 square foot of retail space, at the Marshall Street retail hub, with first occupancy expected by the second half of 2018.
By Alumni, for Students
When Aptitude principal Jared Hutter attended Syracuse in the early to mid-2000s, no purpose-built student housing existed near campus. "It was all older houses, which, typically, for college kids, is perfectly fine," Hutter says. "However, I was seeing at other college campuses where friends of mine were living, and I always specifically reference back to Maryland and Indiana … these high-rise buildings with tons of kids and granite countertops and amenities galore." This observed mismatch in supply and demand sparked Hutter's interest in residential real estate and, specifically, in student housing.
Hutter founded BLVD Equities, the precursor to Aptitude Development, in 2014, and approached Brian Rosen—a third-generation real estate developer, principal of Rosen Property Group, and fellow Syracuse graduate—about collaborating to develop student housing at the university. The two alumni completed their first property, #BLVD404, in 2015, adding 163 beds to the area's now-robust student housing stock.
"Our motto for that one was, "built by Syracuse alumni for Syracuse students," Hutter says. "We really put ourselves in the mindset of what today's students' needs were and tried to build upon that." These needs included plenty of study and conference rooms, a large fitness center, and a resident lounge dedicated to SU men's basketball coach Jim Boeheim. Hutter and Rosen later sold the property, now known as U Point Syracuse, to American Campus Communities.
Campus Plaza came into being when Aptitude was approached with an opportunity to buy a retail property on Marshall Street. Hutter and Rosen both recognized the chance to build on "one of the highest-quality pieces of land in the area" and took the offer before they had a full plan in mind for the site.
Aptitude scaled the current eight-story plan to fit in with the relatively low-rise area. Hutter and Rosen both drew on their knowledge of the area and on the Syracuse community in order to improve their development methods and design the best possible use for the space.
"We have a lot more single-occupancy units," says Rosen. "It surprised us going into the market how many people—what the demand was for single occupancy here, such as one-bedroom studios. And, now that we know that, we're kind of designing this building around that with a pretty wide range of options for everybody." Rosen believes the studios might also appeal to doctors or employees at the hospital across the street, or even to young professors.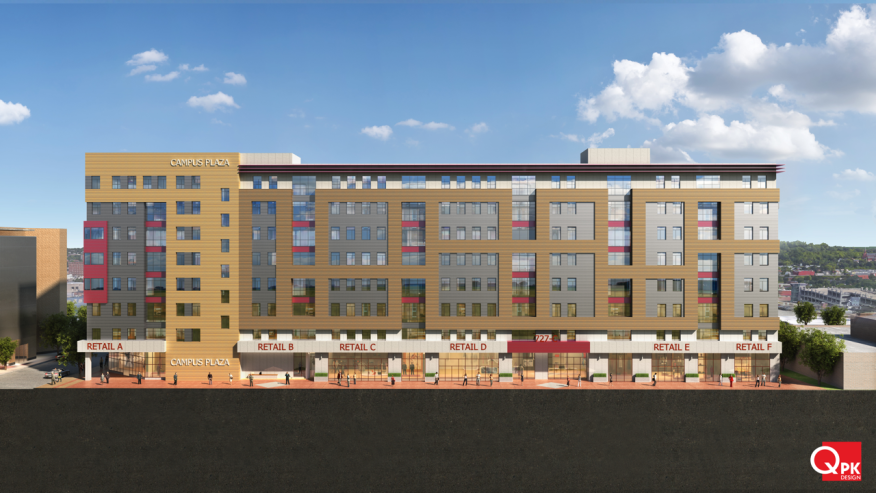 Local Impact, Local Change
When Campus Plaza goes vertical in 2018, it will be the first new retail and residential building on the Marshall Street block in almost 30 years. By Hutter's estimation, the project will bring in higher-level retail tenants, spur other local property owners to redevelop their spaces, and revitalize the aging area.
"I think this project is going to be one of the greatest things to ever happen to Syracuse," Hutter says. "I don't say that necessarily because of the immediate impact of our building or the fact that I'm clearly biased because it's our project. … I don't know if you need to put massive buildings all up Marshall Street, but I really think somebody needs to come in and fix it up."
While the developers aren't working with the university in any way, Hutter believes this impact will roll over into Syracuse University's appeal to prospective students, and they're designing with the school's success in mind. "This area's like the front door to the university. When people come to look at Syracuse as a potential place to attend or send their children, they're going to look around and say, 'Where are my kids going to live, where am I going to live, what's the area look like?' We're excited to be a part of the area's transformation in the years to come, which will ultimately lead to the university's continued success as well."
The Syracuse community has served as a strong starting point for the new developer, and Rosen and Hutter are currently considering another new property across the street. Aptitude intends to build about 2,000 new student beds nationwide in the coming years and has several opportunities open now to do so.
While expansion would represent a step away from his alma mater, Hutter believes his and Rosen's relative youth will serve as an asset in the student-housing sphere. "Things have changed in the 10, 15 years since Brian and I left college, but we're different than some of the older executives in the student housing industry who may be even further disconnected from that population. We think our age works to our advantage in that we understand the university, and we relate to the demographic that we're trying to market to."