On an unseasonably warm, early October afternoon in Arlington, Va.'s, yuppified Clarendon neighborhood, Andrew Buchanan is optimistic. It's not because of the gorgeous weather or the craft beer selection down the street at Whole Foods.
Buchanan, who spent seven years as president of McLean Va.–based multifamily firm Kettler, sits in a windowless conference room that his nascent multifamily investment firm Blackfin Real Estate Investors shares with Pace Consulting—a lobbying firm—and speaks in hopeful terms. Blackfin, the firm Buchanan founded with Doug Root (currently, the two men and Root's black Labrador retriever, Grady, are Blackfin's only employees), hasn't bought any apartments yet. But Buchanan says they're close.
"We're working on three deals," he said in October. "Two of them are in negotiation, and the third one we think we'll get the award on later this month."
Since starting the firm with ­Buchanan in August, Root estimates the pair analyze about five deals a week and have submitted bids on at least 40 properties. But the competition is fierce, especially for value-add multi­family assets—roughly those properties 10 years or older—in East Coast markets from Massachusetts to the Carolinas, where Blackfin competes.
Fierce competition isn't anything new for apartment buyers. Since multifamily emerged from the recession in better health than any other real estate sector in 2010, investors from around the globe have stampeded to apartments. And while there have been ebbs and flows in interest since then, as a rule, apartments remain a prized asset class.
"We're seeing even more competition," says Mitch Paskover, a managing partner at Los Angeles–based Trion Properties, which targets value-add opportunities on the West Coast. "People are focusing a little more on multi­family. It was a product that held up best."
As more investors have chased apartments in the past seven years, cap rates have cratered to historic lows. That's made finding an acceptable return a moving target. For a while, it was distressed properties. Then, it was new development and trophy deals in gateway markets. Now, more than a half decade into a good run for apartments, even if there is some softening in the equity markets (see "Construction Squeeze," opposite page), buyers have to look harder than ever to find deals. And, in 2017, when everything feels picked over, a segment of the market that repels one group may be exactly what attracts others. It's in that environment that Buchanan and Root plan to outhustle their ­competitors.
Joining a Crowded Market
So why exactly would anyone want to start a new firm in such a competitive market? Root admits 2009 or 2010 might have been an optimal time, but hindsight is just that. Even in this environment, Buchanan and Root say they have the expertise to lure investors and source deals that others might not be able to find.
Root has spent more than a decade as an apartment dealmaker after a run on the professional tennis tour, including an appearance at the U.S. Open, and a stint at tennis gear manufacturer Prince. He got the real estate bug in grad school at Cornell University and started doing commercial deals at Invesco. In 2011, he moved to Greystar, eventually becoming managing director of investments for Greystar Investment Group's Mid-Atlantic and Northeast regions and developing on-the-ground knowledge in markets up and down the Eastern Seaboard.
"We have to find really compelling deals that the limited partners or the institutional partners are looking for," Buchanan says. "That's Doug's bailiwick. Through most of his relationships, we can find off-market or botched-execution opportunities that are compelling."
Buchanan took the accounting route into the multi­family business, starting out at Arthur Andersen doing work-outs for developers in the '90s. After real estate stints at Blacksburg, Va.–based HHHunt and Carl Freeman Associates and a brief return to the accounting world at Ernst & Young, he landed at Kettler. He started by running the company's financial, accounting, and joint-venture operations and worked his way up to president.
"I'm not an accounting guy," Root says. "I've never structured joint-venture documents for a fund. Andy was doing work-outs and was a CPA. He ran a big organization, structuring everything from development joint ventures to value-add [projects]."
The duo is open to deals all across the property spectrum, but their preference is value-add. Essentially, they want to take aging assets that are in private, and often family, ownership that are in need of physical, cosmetic, and management upgrades and institutionalize them.
"What we're really selling to our capital partners as our core capacity is to buy assets from private operators that don't implement institutional management practices," Root says. "We plan to come in with new capital, cure the deferred maintenance, clean up the operations, and then go and put the lipstick and makeup on the physical asset."
And it's a segment where renters are much less likely to flee for homeownership. "Our thesis is workforce housing," Buchanan says. "We don't really see that as [being as] cyclical as other parts of real estate. There's no new supply because everything being built is Class A. The majority of the workforce in the markets we cover is slightly above median income or below."
The obstacle: Blackfin isn't the only group that sees these opportunities in the value-add segment of the market. "On the value-add side, I think it's about as crowded as it has ever been," says John Gray, head of investments at LMC, a Lennar company that was the sixth-biggest apartment developer in the country in 2015, according to the National Multifamily Housing Council (NMHC) 2016 Top 25 Developers list.
There isn't just one driver in the rush to value-add apartments. But there is a feeling that, after years of rent increases, new Class A properties might not have the upside of those lower down the quality scale.
"There are some flashing yellow lights," says Mitchell Kiffe, senior managing director at CBRE Capital Markets. "The bidder pools are thinning. Core assets are softer. There's been choppiness in core for a while, given the amount of supply coming on line. Some investors have changed their investment philosophy a bit and are pivoting more toward value-add."
Not only is supply an issue in the Class A space in some markets, but those renters by choice as residents are also a draw.
"Rents have gone up dramatically, but incomes have not kept up," Kiffe says. "One of the reasons pension funds and fund managers like value-add is they have the renters by necessity now."
Investors have also been moving out of the coastal markets in search of yield. "With the forward-looking concerns about the top gateway markets in the Class A space, there's a recognition that growth may be better in the B and C space and even in secondary and tertiary markets," says David Brickman, executive vice president and head of multifamily business at Freddie Mac.
Rushing Back In
But just as the conventional wisdom saw investors chasing higher returns in older, value-add deals last year, others see 2017 opportunities in brand-new apartments.
"While the most-competitive space has been in the value-add segment, newly built properties have also been in high demand from a broad set of capital sources," says Lili Dunn, president of Greensboro, N.C.–based Bell Partners. "Newer assets that are commodity-like in secondary-quality submarkets [had] gotten the least amount of attention."
The movement of buyers into the value-add space, combined with the amount of new apartments in the market, has created an opportunity to buy new apartments in markets that aren't on the coasts. "There are some balance-sheet investors moving into that space," Gray says. "Those folks were smart enough to see the void in the market, get out there, raise capital, and now they'll be buying in a more thinly populated environment."
William MacDonald, president and CIO at Dallas-based Mill Creek Residential, the second-largest ­builder on the NMHC 2016 Top 25 Developers list, is also seeing a new crop of buyers.
"We're seeing more private, noninstitutional buyers who are using leverage and the low interest rates to help engineer strong cash-on-cash returns and projected IRRs," he says.
Other buyers are familiar faces, including Memphis-based REIT MAA, which made news by buying large REITs Colonial Property Trust in 2013 and Post Properties in 2016.
"It's getting a little easier as we head into [2017] because we're seeing more new supply come on line, and, in certain submarkets, the pressure is mounting for some of these developers," says CEO Eric Bolton. "We're finding more opportunistic buying opportunities later [in 2016] and into [2017]."
When Bolton sees buildings at 60% or 70% lease-up after nine months at rents that don't meet projections, he knows there's an opportunity to make an all-cash ­offer and close quickly.
"Those deals at 50% to 70% status, we find that's the perfect time to negotiate, because typically the ­developer has been involved in the project for quite some time," he says. "They're getting fairly late in their term with their construction financing. If they have other sites they'd like to get going on, they can only do that if they pull money out of some existing developments that they're trying to lease up."
Bell Partners, too, sees this opportunity and has pulled off some major deals over the past decade. "While others may be hesitant, buying in strong ­urban locations while conditions are soft [which affects pricing], Bell believes acquisitions can be compelling if ­underwritten carefully and the seller has realistic ­expectations," Dunn says.
But you don't have to be a big national name to find new development opportunities. Jay Madary, president and CEO at JVM Realty Corp., in Oak Brook, Ill., has committed $150 million to buy new developments from builders. "In some cases, the development deals are coming from a developer we already know," he says.
In fact, Root says Blackfin would even be interested in buying brand-new apartments, provided he can match investors to those deals. "Brand-new construction is delivering at a discount to what it costs to develop today, and you can buy it brand new on rents that may be depressed because of supply," Root says. "That starts to look compelling if it's in the right location.
"We're talking to private families. If we can partner with them and buy well-located, brand-new real estate at an attractive yield and basis, we'll do it," he adds.
A Brave New World
Skip ahead six weeks after the initial trip to Clarendon and things have changed. It's not just the weather, which turned cold and blustery the week before Thanksgiving. President-elect Donald Trump's shocking victory is sending reverberations from the nation's capital into America's living rooms, communities, and, of course, businesses. The multifamily sector, of which Trump and son-in-law/political consultant Jared Kushner are members, isn't immune to the Trump ­effect. In fact, with its reliance on Fannie Mae and Freddie Mac to provide financing, the sector has a large stake in Trump's policy decisions.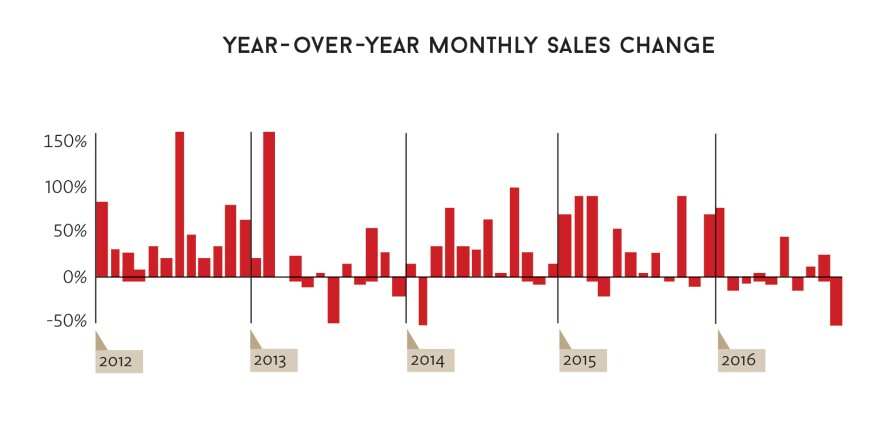 So far, Buchanan and Root, whose offices are only four miles from The White House, haven't seen many changes in the acquisition market. In fact, they've ­secured two of the deals they were chasing with the ­expectation of closing them in early 2017. They plan to add an analyst early in the year, and a construction manager and accountant are expected to join the team too.
"We're moving as if the market hasn't changed," Root says. "If you look at the equity and stock markets, at first everything was super volatile, and now it's business as usual."
But that feeling isn't universal. Robert Lee, president and COO of Los Angeles–based JRK Property Holdings, which seeks new core-plus to value-add deals, saw competition ease and pricing moderate in 2016, though he says it was still ­"intense."
After the election, things cooled even more. "The market has further eroded since the election [for properties with rents from $1,000 to $2,000] ," Lee says. "We're seeing and anticipating more fallout as a result of higher interest rates."
David Schwartz, CEO and co-founder of Chicago-based apartment owner Waterton, speaking a week after the election, wasn't sure what the ultimate effect on the market would be but speculates that more assets could hit the market.
"There are just more unknowns," Schwartz says. "Owners may choose to be sellers. Some of Trump's tax policy is that he's talked about the elimination of a tax break on carried interest. That could cause people to take advantage of rates now, where they know where they are. There just may be more incentives for people to sell while values are at a historic peak."
If Schwartz's prediction comes to pass, it could offer Buchanan and Root the lifeblood to grow their start-up. They're certainly prepared to buy in 2017 and beyond.
"We're capitalized to buy anywhere between $500 million and $750 million in assets, and we want to do that in the next five years," Buchanan says. "Our real goal is to have $1 billion under management five years from now. We can easily do five deals a year at $30 million or $40 million."