There was 12% growth year-over-year in apartment transaction volume during the first quarter of 2016 on volume of $38.6 billion. The growth was paced by activity in the garden apartment subtype, with volume up 19% year-over-year on sales of $26.7 billion, according to Real Capital Analytics (RCA).
There were $14.7 billion worth of portfolio and entry-level transactions, which made up 38% of all activity, but, as RCA puts it, "Such deals are lumpy and one cannot count on them happening each quarter."
Much like in February, deal volume in March slid – this time 14% year-over-year – for an $11.5 billion total. February sales were $7.3 billion, which is a 31% year-over-year decrease. A strong January, in which investment activity jump 58% year-over-year, was the reason for the first quarter's positive growth in transaction volume.
Individual asset sales were down 26% year-over-year on sales of $7.8 billion in March, while the megadeals were up 24% from a year earlier on sales of $3.7 billion.
Despite the drop in transaction volume in recent months, there's no reason to board up the windows. "One should view these changes in deal activity with caution rather than concern," RCA writes. "Deal activity normally moves with pricing but cap rates have largely flattened in recent months. Cap rates averaged 5.7% in March and have bumped around between 5.9% and 5.8% since August 2015."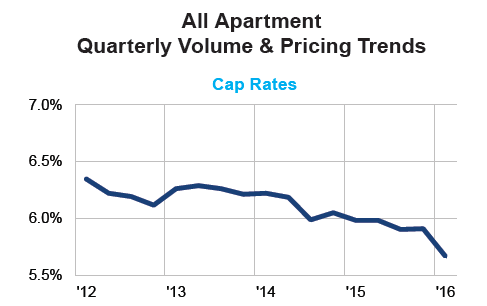 March saw a 37% year-over-year drop in mid/high-rise deals (to $2.9 billion), as garden apartment transactions were down 18% year-over-year in March on sales of $4.8 billion.
"Single asset sales in the garden apartment market are less noisy because it is a larger market, but March was the first month in the last year where growth in single asset sales was negative," RCA writes. By contrast, single asset sales in the mid/high-rise space posted negative year-over-year growth from August to November 2015 before a brief respite from December to February."
Another possible reason for recent declining trends in sales volume could be tighter pricing making it more challenging for buyers to step up to deals. "Single asset sales in the 6MM were down 39% year-over-year in March," RCA writes. "Average cap rates came in at 4.7% for these markets, fully 50 bps lower than the last low point for cap rates seen in the expansionary cycle of 2006-07."